Welcome to SumGuy's Ramblings!
Hi my name is SumGuy, I will be your honored Rambler today. Not the car, but just a guy with some spare bandwidth throwing his ramblings out there with everyone else.
Tech security
In Todays world tech security is an ever important aspect of our lives, everyone and everything out there is trying to break into your life and steal your information, so How do we stay secure? You can find current best practices and urgent issues in the tech security field on this site.
Sysadmin tutorials
As a practicing sysadmin and a consultant for some very promising companies Across the USA I will post sysadmin tutorials that make my life easier when I am trying to do my job.
Devops tips
Devops is a hot field these days, and keeping on top of the field is a constant struggle. I will post what tips I have figured out over the course of my work life and hopefully make your life easier 🙂
System Administrator news
From HeartBleed, Freak, ShellShock, Poodle, or whatever new clamaity may befall us any day now I will try to keep on top of the latest system administrator news affecting our lives.
Best Devops tools
Tools, scripts, libraries, apps and general tidbits that are there to makes our lives easier, I will be posting about all the best devops tools.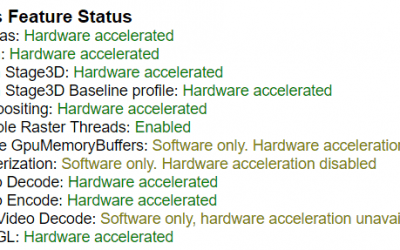 WebGL on Chrome Enable hardware acceleration : browse to chrome://settings/advanced scroll to the bottom and look for Use hardware acceleration when available make sure Use hardware acceleration when available is checked ✓ if it tells you to then click the relaunch...
read more