Windows 10 was released long ago in internet time, but I get asked questions about it randomly by various users, friends and clients. One of the most asked ones is about "spying" that windows 10 may be doing on the user. Initially a server called DiagTrack was present in windows that provided these "spying capabilities". Since end of 2015 they have renamed the service to "Connect User Experience and Telemetry service". I am not sure why they changed the name, maybe the word tracking was bothering some people and MS made it… "different".

Connect User Experience and Telemetry service
Microsoft says Telemetry is system data that is uploaded by the Connected User Experience and Telemetry component. The telemetry data is used to keep Windows devices secure, and to help Microsoft improve the quality of Windows and Microsoft services. It is used to provide a service to the user as part of Windows.
Whats that mean? Only MS really knows what it means truly and if you care you should ask someone from MS for a real answer. I am simply here to tell you how to disable this IF you want to do so.
Hold down the Windows key and tap the R key
In the box that opens type services.msc and press the Enter key or click the OK button
In the 'Services (Local)' section find the line with the name 'Connected User Experiences and Telemetry' and double-click it
In the 'Service status' section click 'Stop' (highlighted blue in the screenshot below)
Under the 'Startup type' drop down menu select 'Disabled' and then confirm this and close the window by clicking 'OK' (highlighted yellow in the screenshot below)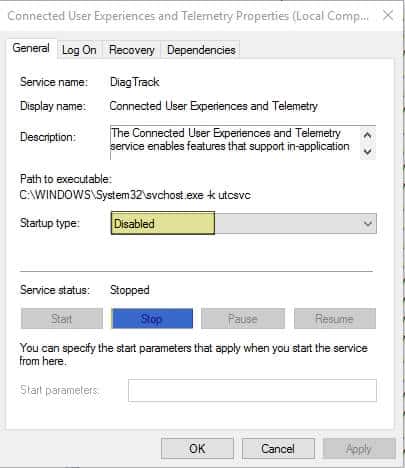 This should disable the service and the tracking for this install. Now we know microsoft has enabled this service under a different name once, will they do it again? who knows, maybe check on this periodically to see what state its in. Working in an enterprise environment and want to know how to control the telemetry service? find out from a technet article written by MS themselves by clicking here.