Verizon's Samsung Galaxy Note 3 gets update to Android Lollipop
Samsung Galaxy Note 3 from Verizon is getting an update to Lollipop too starting today. Verizon's site has been refreshed with the update and some small enhancements. The new OS will use a material-ish version of TouchWiz, plus some performance and optimized battery enhancements.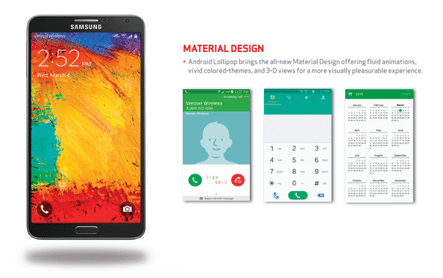 This update brings Note 3 to the build version LRX21V.N900VVRUEOB6 and it will begin rolling out in over the air updates.
[box type="shadow"]BASIC INTERACTION
• Bolder color, fluid animation effects, and interactions based on Lollipop.
• The on/off toggle button style updated based on material design
LOCKSCREEN
• The shortcuts for both Phone and Camera are provided for convenience.
• Material design-inspired notifications
• Ability to set priority and privacy for notifications on lock screen.
• Provide music control as a card to utilize the real estate of the lock screen UI.
IMPROVED TOUCHWIZ
Brighter look and feel, bold colors, fluid animation inspired by material design
FLOATING ACTION BUTTON (FAB)
• FAB are added for ease of access on emphasized features, such as adding a new contact or favorite, and writing a text message for Contacts and Messages, respectively
RECENTS
• Now uses the parallax scrolling effect for easier access.
• Multi-window icons for ease-of-use during multi-tasking.
[/box]
Source: Verizon via AndroidPolice