Verizon's HTC One M8 gets update to Android Lollipop 5.0
HTC is long away from its 90 day deadline of updating all recently launched devices to Lollipop, but it is still keeping to its word of bringing the Android sweetness to its devices, even if it is later than advertised. The latest to receive this blessing is Verizon's HTC One M8, the smartphone that is getting Android 5.0 today.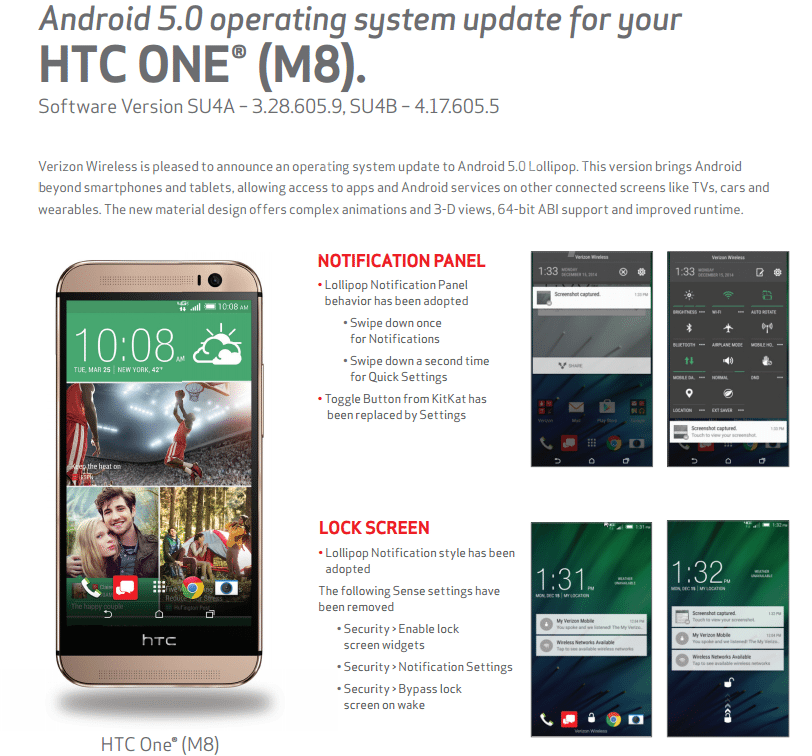 This update will bring about new animations, settings changes, notifications on the lock screen and a different card-based app switcher UI. This update brings band 4 LTE roaming and some new changes to 3-way calling.
The update will roll out in batches, as usual, and you can visit the system menu to try the manual update if you are eager. Below you can check the official Verizon update document:
[box type="shadow"]
Lollipop Notification Panel behavior has been adopted
Swipe down once for Notifications
Swipe down a second time for Quick Settings
Toggle Button from KitKat has been replaced by Settings
Lollipop Notification style has been adopted The following Sense settings have been removed
Security > Enable lock screen widgets
Security > Notification Settings
Security > Bypass lock screen on wake
"Sound" has been changed to "Sound & notification" in Settings
Notification light settings have been moved to "Sound & notification"
Calendar Picker View offers dropdown capabilities
Search function has been added to settings
Date & Time settings have been reordered
Syncing with new Google Settings and adding in Accessibility
Switch Access
Color Inversion
Color Correction
High Contrast Text
"Sidetone" will be added as a Call Setting, which provides audible feedback to the caller
World Clock Globe has been removed for memory considerations
Lollipop supports two styles of Recent Apps – Card View and Grid View
Recent App style can be changed in Settings > Layouts
The option to share with near field communications (NFC) starting with the Share menu has been added
Promotes NFC sharing in the User Interface
Band 4 roaming has been enabled
Enhancement to 3-way calling feature has been added
[/box]
Source: Verizon