Verizon updates Motorola Moto E second gen to Android 5.1
Verizon's less fortunate Moto line devices are getting an update today, and if you have a Moto E second gen you can definitely check that Update button now. The Motorola Moto E is the runt of the Moto line and it is sold to pre-paid Verizon customers; unlike the DROID Turbo which has been running on Android 4.4 ever since it launched. Well now it's time for a change.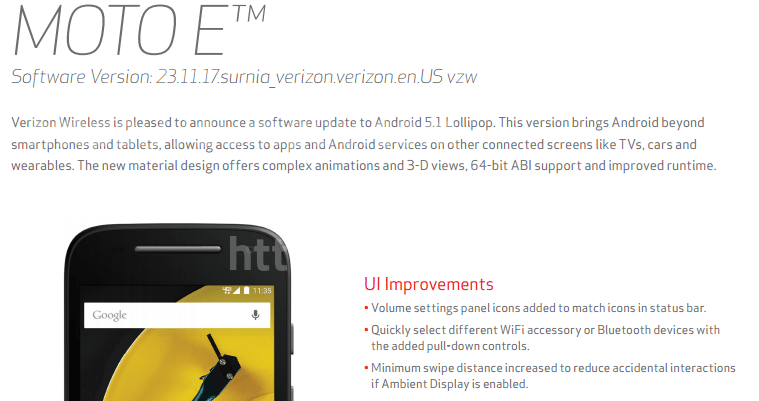 The US carrier is updating the E to Android 5.1 and you don't get much different stuff from the usual Android stock. The most important changes are the factory reset protection, increased minimum swipe distance which lowers the accidental interaction rate with an activated Ambient Display and the pull-down controls where you can easily select WiFi and Bluetooth settings.
The update brings Moto E to version number 23.11.17.surnia_verizon.verizon.en.US vzw. We do not know how big the update is, but expect a large file and connect to a WiFi network to download it in order to not kill your data plan.
If you made any modifications to Android 5.0, expect the flash to fail. It may take up to a week for the update to reach your phone at the moment, so you need some patience.
Source: Verizon via AndroidPolice