The Moto Maker customization tool comes to China
The Moto Maker project is finally launched in China and the first deals you get are related to promotional price of Lenovo's newly-acquired Moto line. Customers in China will finally be able to enjoy what the rest of the world has been basking in lately – the ability of customizing their Moto devices.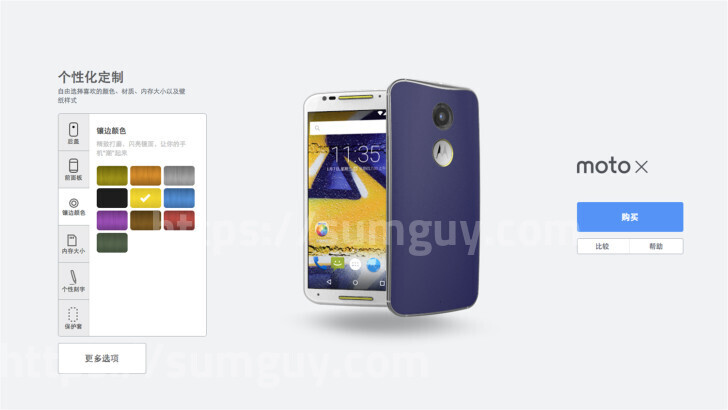 The Moto Maker is limited to the Moto X at the moment, with Lenovo giving out discounts and promotions on Moto X, G and the Moto X Pro until June 2nd. The Moto X will be available for RMB2,699 and customized versions will start selling at RMB2,799. The Moto G will cost RMB999 and the X Pro will cost RMB3,999.
Press release:
[box type="shadow"]Motorola's Moto Maker Launches in China
Chinese smartphone fans can now design their very own customized Moto X, with an exclusive, special price through June 2
Beijing – May 28, 2015 – China has more smartphones than any other country on Earth. We think it would be great if people there could choose phones that stand out from the crowd. That's why today at Lenovo Tech World we shared that our exclusive Moto Maker online design studio is now available in China. People here can design their very own customized Moto X smartphones, and receive them in just a few days. Visit www.motomaker.cn to get started on your Moto X.
On Moto Maker you can create a personalized Moto X smartphone as unique as you are. Choose the front color, back color and materials, accent colors, memory size, and wallpaper for literally thousands of possible combinations. You can even have your name or a personal message laser-etched on the back. In addition to a range of colors, Moto Maker offers a selection of authentic materials including FSC-certified wood and natural leathers, so your Moto X can reflect your individual style.
On top of the personal style enabled by Moto Maker, Moto X is designed with a beautiful curved back and a sleek metal frame. It comes with Android™ 5 Lollipop and features enhanced voice and gesture controls for when you want to be hands-free.
Once you design your phone, the website will tell you the delivery date based upon your choices. And we make it easy in case you change your mind. If you don't like the way your customized Moto X looks, you can exchange it within 15 days and start over.
In addition to launching Moto Maker in China, we have begun offering Moto X, Moto X Pro and Moto G to people in China for online purchase directly through our Motorola.com.cn website. To celebrate this we are offering a special promotion on all three devices exclusively on Motorola.com.cn through June 2:
Moto X is available from RMB2,699, with custom versions starting from RMB2,799 on Moto Maker
Moto G is available from RMB999
Moto X Pro is available from RMB3,999
Find out more about customizing your Moto X and see all of our special offers at Motorola.com.
[/box]
Source: Lenovo