Tap Path – new app allows opening links with single, double or tripple taps in different browsers
Tap Path is a new app for Android that lets users open links with different apps by single, double and triple tapping. It comes from the creator of Link Bubble, a similar app that loads web pages in Chat Head-style bubbles that float on the screen until the user needs them. Tap Path aims at refining the browsing experience by assigning different actions depending on how many times the link is tapped.
After the app is used as default link handler once, it will require you to choose which apps to route links to for one, two and three taps. This way, one tap would open the link in Chrome while two taps will load links in Link Bubble for example. The app allows for users to direct actions to other mediums except for browsers as well, therefore they can reroute links to Pushbullet, Pocket or others.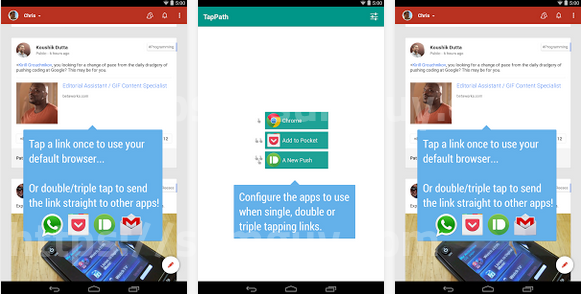 The app works pretty well most of the time although sometimes it may have problems with web-views and apps or browsers that require a double-tap to zoom. Users will have to be precise in tapping the link with a double or triple tap as those can become a bit tricky and can lead to an accidental zoom. In case the app does not act right, you can tinker with the tap delay slider in the options menu in order to tune your taps with Tap Path.
[pb-app-box pname='com.digitalashes.tappath.playstore' name='TapPath' theme='discover' lang='en']