T Mobile's HTC One M8 updates to Lollipop on Monday, HTC product manager says
T Mobile's HTC One M8 is getting its Lollipop update as soon as Monday. It's gotta be true if Mo Versi, HTC product manager, posted it on Twitter. The company is trying very hard to attempt to bring its devices to Lollipop as soon as possible, even if certain US carrier versions take more time to update than others.
The OTA update files get sent to the first batch of One M8 units on Monday February 9th, which means that, at late as February 13th, your T Mobile One M8 should be updated to Lollipop. T Mobile HTC One M7 is still late to the Lollipop party, but considering that the One M8 AT&T and Verizon versions are still on KitKat, this is a good sign things are developing well on the T Mobile front.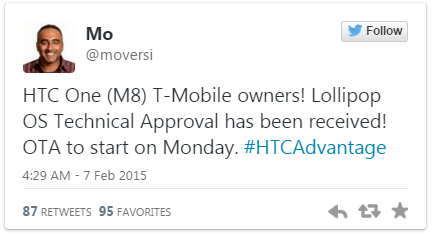 If you want to see the freshest HTC news on updates, you can follow Mo Versi on Twitter; he is in charge of keeping HTC US customers in the loop with everything HTC.
Source: AndroidPolice