T Mobile discounts Nexus 6 with $48 on coupon codes
Nexus 6 the T Mobile edition is now on sale and if you have a coupon code you can save up to $48 off of the 32 GB or 64 GB version.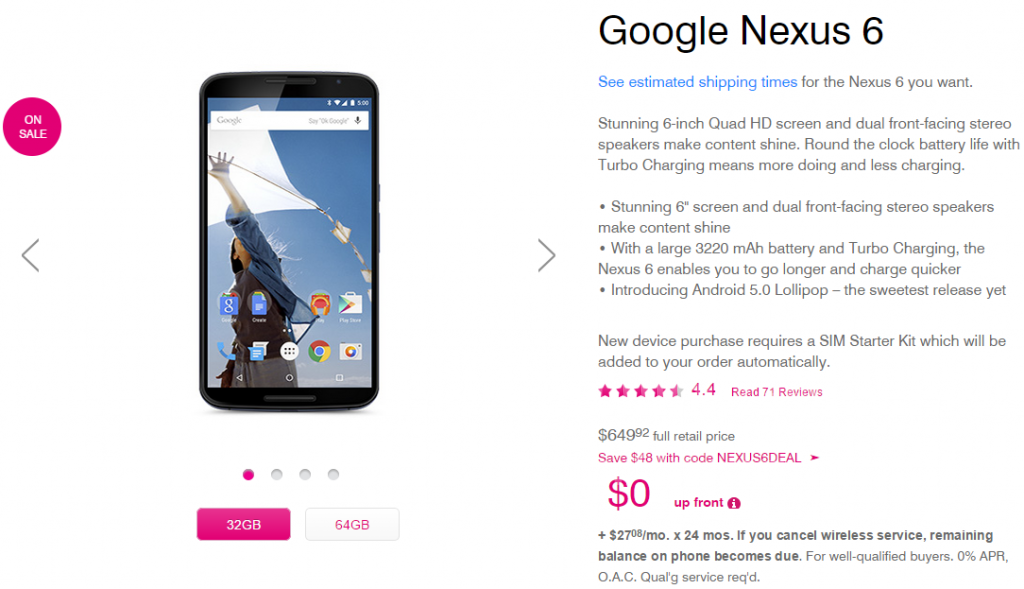 The new Nexus is more expensive than the previous models at launch, but if you really want one and you've been waiting for a deal, this is the first you can get. T Mobile is giving you $48 off of the two available models.
The 32GB Nexus 6 is sold for $649.99 on T Mobile and you can pay for it upfront or on a payment plan. If you use the code NEXUS6DEAL you will buy it for $601.92.
The 64GB version is sold for $699.92 but you can get it for $651.92 if you use the code. This deal was also available during Cyber Monday but now you have to use a code to get the discount.
T Mobile is only selling the blue Nexus 6 model so if you want the cloud white model you will have to go to Google or Motorola (those are sold out at the moment, by the way).
T Mobile doesn't work with contracts but you have to set up a line or be a customer in order to buy devices from this US carrier.
Source: AndroidPolice