Sprint leaked documents unveil HTC One M8 and LG G3 update to Android Lollipop dates
Sprint is working on getting its devices to Lollipop as new leaked documents say, AndroidPolice reports that the US carrier is planiing on updating its HTC one M* and LG G3 to Lollipop on February 13th and February 16th respectively.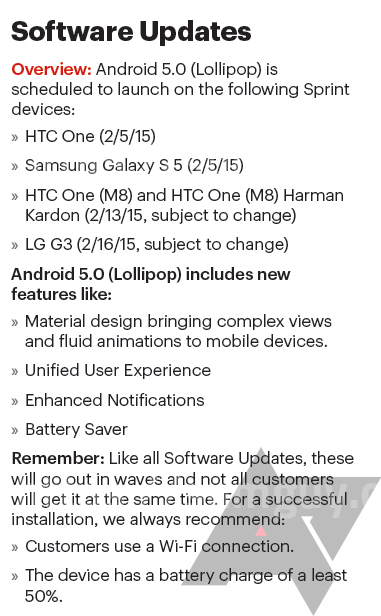 With Galaxy S5 and HTC One M7 already updated to the most recent Android OS version – or close to it – Sprint is working on last year's flagships and their operating systems. An internal document claims that the aforementioned devices are getting their due update in a week or so.
The M8 is scheduled for a February 13th update whereas the G3 will get its Lollipop flavor on the 16th. The HTC One M8 update will include the regular device and the Harman Kardon special edition devices. The update dates could change if issues will be discovered, so the dates are by no menas official or secure.
Sprint will be sending these OTAs in waves,so not all devices will be getting the Lollipop treatment at the same time.
Source: AndroidPolice