Sprint exclusive: HTCOne M8 plastic variant sold for 24 monthly payments of $20 or $100 for a two-year contract
Sprint debuts a HTC One M8 plastic variant for 24 payments of $20.84 each or $99.99 for a two-year contract. M8 is a premium phone which is sold at a premium price, which means that less-expensive variants have to hit the market too, right?
HTC One E8 is a phone "designed like no other, inside and out". It was created for the users who don't need that aluminum finish M8 has and who only need a good-working device with a top-of-the-line hardware construction. Its price adds up to $500 as opposed to M8's price, which reaches $650 at 24 monthly payments.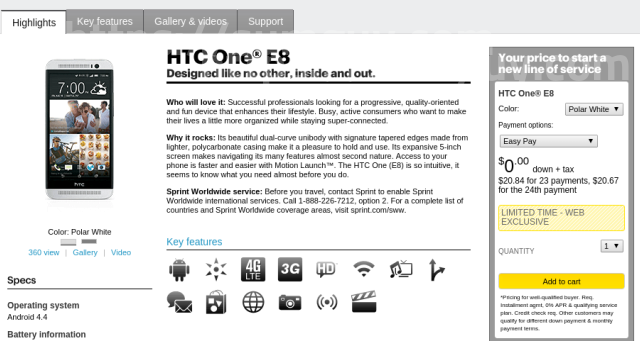 HTC One E8 has a 5 " screen at 1920 x 1080p resolution and is backed up by a quad-core Snapdragon 801 processor accompanied by 2 GB of RAM, two Boomsound speakers and a 5 MP front-facing snapper. It is powered by a 2600 mAh battery and it has the 13 MP back-facing camera. The device has only 16 GB of storage, downgraded from 32, but it still presents a microSD slot for your storage needs.
The Sprint device is Spark-compatible and it comes Sense 6-ready and upgraded to Android 4.4.2. The device was announced in the summer and now it has finally become reality as a Sprint exclusive. It comes in Polar White and Misty Gray color variations and it has LTE service compatibility as well. 
Source: Sprint