Sony Xperia Z4 rumors: 4K screen with 6 GB of RAM
Sony Xperia Z4 tablet will be coming to stores next year and the first details have been already spilled! At least in rumor form. It appears that next year's Sony device will be having an ultra HD screen at 13 inches and some large stacks of RAM to go with it. Let's say it's an affordable  mini-laptop with a touchscreen.
There's just one piece of evidence so far – that can be fabricated altogether from what we know – that we will show you later and it appears that the 13-inch screen will sport a 16:10 ratio with Sony Xperia Z4, that is twice the amount or memory any tablet on the market has at the moment. These specs will be accompanied by a Qualcomm  Snapdragon 810 running at 2.86 GHz, which it totally needs considering the 8.2 million pixels the large screen has to work with.
The provided storage space is around 64 GB and all of the things are powered by a 12,100 mAh battery.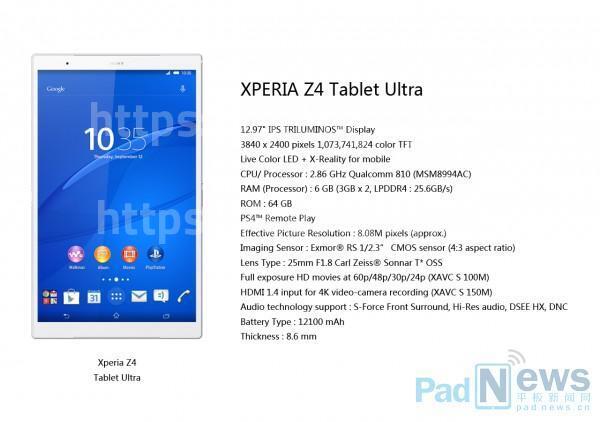 It appears that not everyone believes the rumors and, for most, this hardware spec is a dream come true and not a realistic step towards tech progression.
You should take this news with a grain of salt as, considering the fact that the tablet is rumored to make an appearance as soon as January 2015, it is probably a spoiler for a Sony tablet that will launch in the second half of 2015.
4K display is being worked on for smartphones and tablets alike, but there is still a long way to go until it becomes a regular feature on our handsets. The possibility of Sony throwing out such a powerful tablet in this short period of time is quasi-unbelievable, as such perfection is very difficult to attain.
The entire rumor can be a great prank because similar news regarding Sony Xperia Z3 was rumored to come out with a 4K display as well, but that never happened. The news was released by the Chinese site Padnews and it was taken by most tech portals around the world, along with the official looking specs of the Xperia Z4.
Source: 4k.com