Skully Android-Powered Motorcycle Helmet quadruples its Indiegogo goal in 3 days!
How about an Android-Powered Motorcycle Helmet, folks? Android seems to get thrown pretty much anywhere these days, from TVs to refrigerators, ovens or security cameras, and now it has reached helmets too! The Skully AR-1 motorcycle helmet is one of the better options you can choose to support and it seems that more and more people have chosen to fund this ingenious project.
To put it simply, it's a smart helmet that is supposed to keep riders safe and simplify lives as well. What it does is present a transparent heads-up display in its face shield which can show GPS and notifications pretty fast. Using the GPS on a motorcycle is neither simple nor easy, especially when the biker is wearing a helmet, but now things may change.
The Indiegogo project managed to reach its $250.000 goal in just an hour and it even doubled it in less than a day! In just 3 days Skully managed to draw in over $1.000.000 in funds which will be used to create and develop the prototype. In order to get such a helmet for yourself beforehand you will have to take $1400 out of your pocket.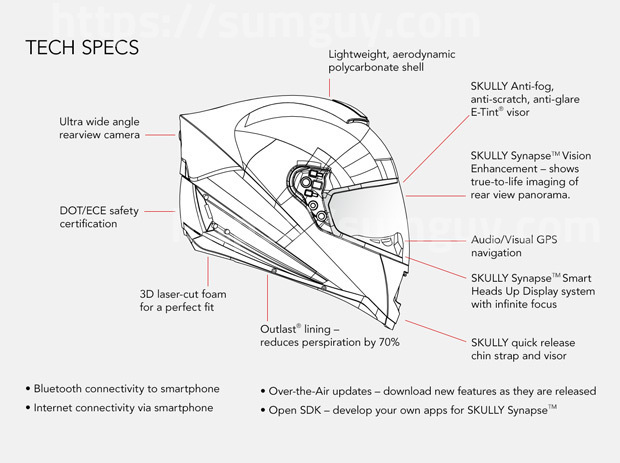 Apart from its intelligent screen, the helmet has a rear-facing camera as well, which helps secure every adventurous biker out there. Considering the fact that the Skully helmet runs Android, updates will be an easy task (hopefully) to accomplish. New functionality and even apps may be lurking in a distant future from now.
Here are the full specs:
Lightweight, aerodynamic polycarbonate shell
Ultra wide angle rearview camera
DOT/ECE safety certification
SKULLY anti-fog, anti-scratch, anti-glare E-Tint(R) visor
SKULLY Synapse(TM) Vision Enhancement – shows true-to-life imaging of rearview panorama
Audio/Visual GPS Navigation
SKULLY Synapse(TM) Smart Heads up Display System with infinite focus
SKULLY quick release chin strap and visor
3D laser-cut foam for a perfect fit
Outlast(R) lining – reduces perspiration by 70%
Bluetooth connectivity to smartphone
Internet connectivity via smartphone
Over-the-air updates – download new features as they are released
Open SDK – develop your own apps for SKULLY Synapse(TM)
In order to find more about the Skully Motorcycle Helmet, click HERE!
https://www.youtube.com/watch?v=ZdcWd594lRw
[wdsm_ad id="1484″ class=" aligncenter" ]