Samsung promotion goes live – get a SUHD TV and get a free Galaxy S6 to go with it!
Samsung just announced a promotion where, if you make a considerable purchase of a new SUHD TV, you will also get a free Samsung Galaxy S6. How much are you supposed to spend in order to get a $650 freebie? Not less than $1500 it appears. The promotion came live yesterday, on July 19th, and it will last until August 1st.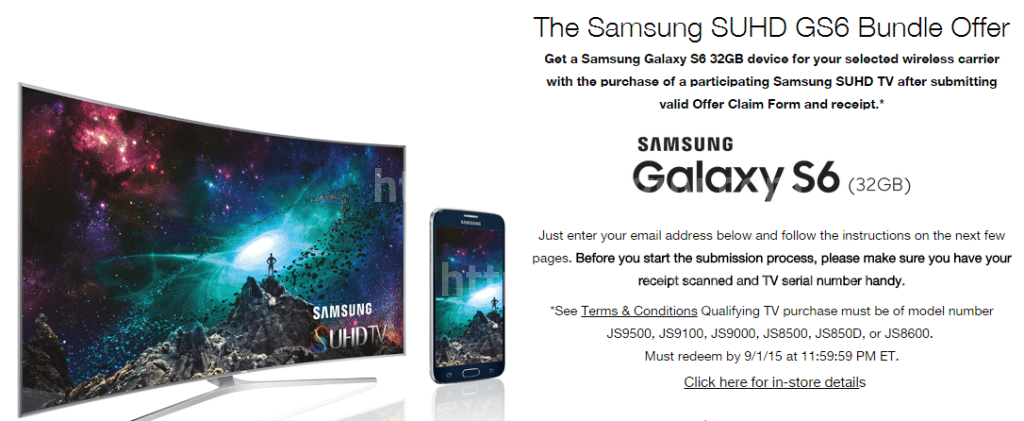 This move replaced the existing promotion which offered customers a free year of Netflix when buying a Samsung TV.
This promotion applies only to the SUHD TVs, which is the new brand of HD TVs from Samsung that uses nano-crystal color technology, a fair improvement from LCD screens, and an HDR feature responsible for improving contrast for supported content.
You can get a free Galaxy S6 if you buy one of the following Samsung SUHD TVs:
JS9500
JS9100
JS9000
JS8500
JS850D
JS8600
The cheapest device you can buy is the JS8500, discounted to $1500. The next cheapest TV is the JS9000 which has a price tag of $3500. After buying the TV, you can collect your gift if you go to SamsungPromotions. Com and fill out a form. You will have to wait up to 8-10 weeks before your free 32GB Galaxy S6 gets to you. You cannot opt for more storage even if you are willing to pay for it.
You could also get a Samsung S6 Edge with this promotion, but you would have to buy it separately through a carrier and get only $400 reimbursed. Considering the device is $100 more expensive than the S6, this would be a worse deal for you.
Source: SamsungPromotions via AndroidPolice