Samsung Gear S2 review – possibly the best-looking smartwatch for 2015
Samsung Gear S2 – What's Next?
Gear S2 peeked at us on Samsung's Unlocked event earlier in August, but now it is finally here and we will soon be able to actually use it! The smartwatch proves to be a peculiar accessory as it does not present the elegant and refined Moto 360 or Apple Watch design but it still looks hot as hell ( I blame it on the stainless steel and tiny frame).
If this device has a flaw, it is its OS, as this Samsung product runs on the same Linux-based Tizen OS which, no matter how good it may be, it will not be able to compete with the likes of Android Wear or Apple Watch, at least in terms of app development.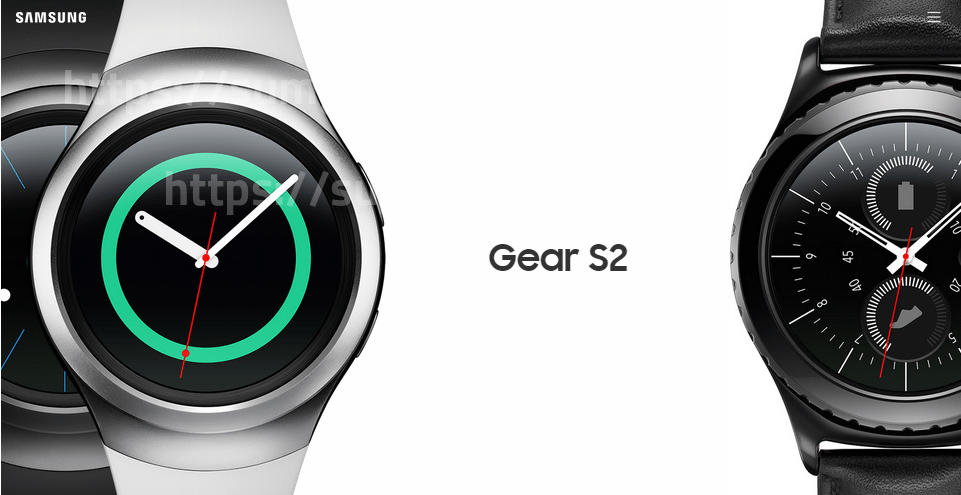 Why is Gear S2 different?
The new Samsung wearable will be compatible with other Android devices, not just the proprietary Galaxy line.
What changes customers' perception over the Gear line is the design change. The new S2 smartwatch has a circular screen as opposed to previous rectilinear screens. It also sports a nice sci-fi look with its rubber watch straps all clad in stainless steel, or you can choose the traditional Classic look with standard watch strap logs and a knurled bezel. The Classic Gear S2 is aimed towards the high-end niche market with a leather band and matching black finish, being possible competition for LG Watch Urbane or even Apple Watch.
The regular model will be available in silver case with a white band or dark gray case with gray band.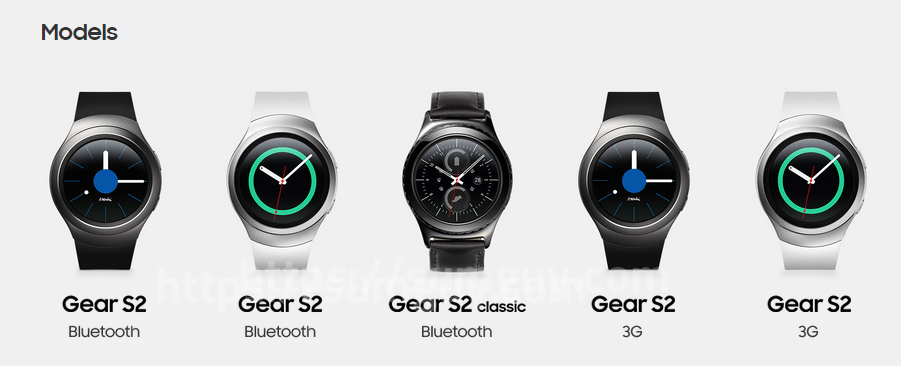 When it comes to specs, the Samsung smartwatch is on par with most of the devices on the market. It sports a circular 1.2-inch display with a resolution of 360 x 360 and a rotating bezel. The bezel requires some attention as this is where the smartwatch has its home and back buttons (you will use them to deal with notifications). The device also gets you built-in NFC that is supposed to make mobile payments easier in the near future. Samsung is also promising a battery life length of two to three days.
Under the chassis you will find a dual-core 1GHz processor plus 512MB RAM and 4GB of storage. Samsung Gear S2 sets you up with a gyroscope, an accelerometer, a heart-rate monitor and a barometer. The smartwatch will have two different versions, a chubby 13.4mm model with built-in 3G and a slimmer version at 11.5mm without 3G. The "fatter" version gets a 3mAh battery whereas the slimmer one gets a 250 mAh cell.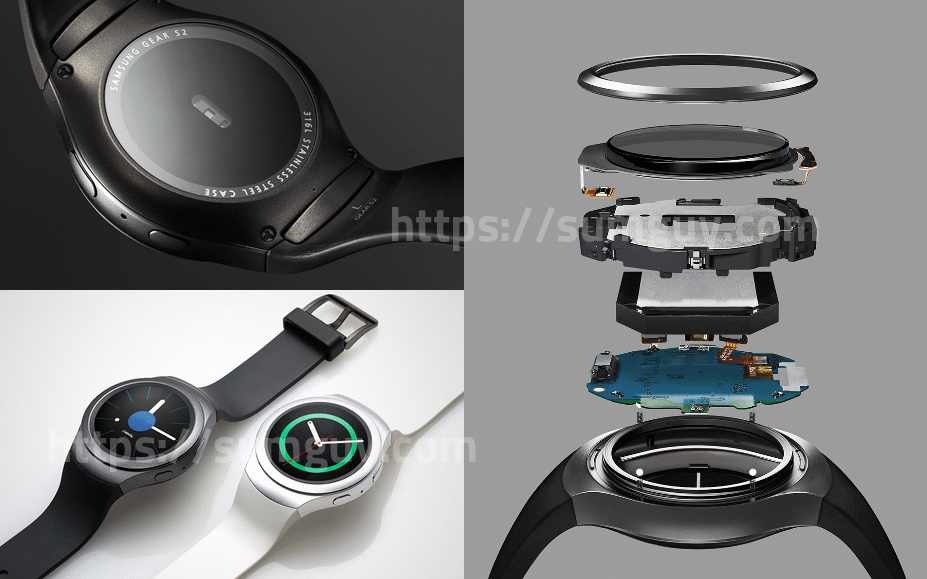 The 3G version of Gear S2 lets you make phone calls and access apps without having to tether your smartphone.
Both Samsung S2 Gear versions get Wi-Fi, NFC and Bluetooth 4.1. The smartwatch is IP68 dust and water resistant which should be a given for any self-respecting smartwatch,to be honest.
Gear S2 keeps its screen active at all times so that you can easily see the time, as it should happen with a watch, after all. No need for you to wave your hands around like a lunatic to make that accelerometer work.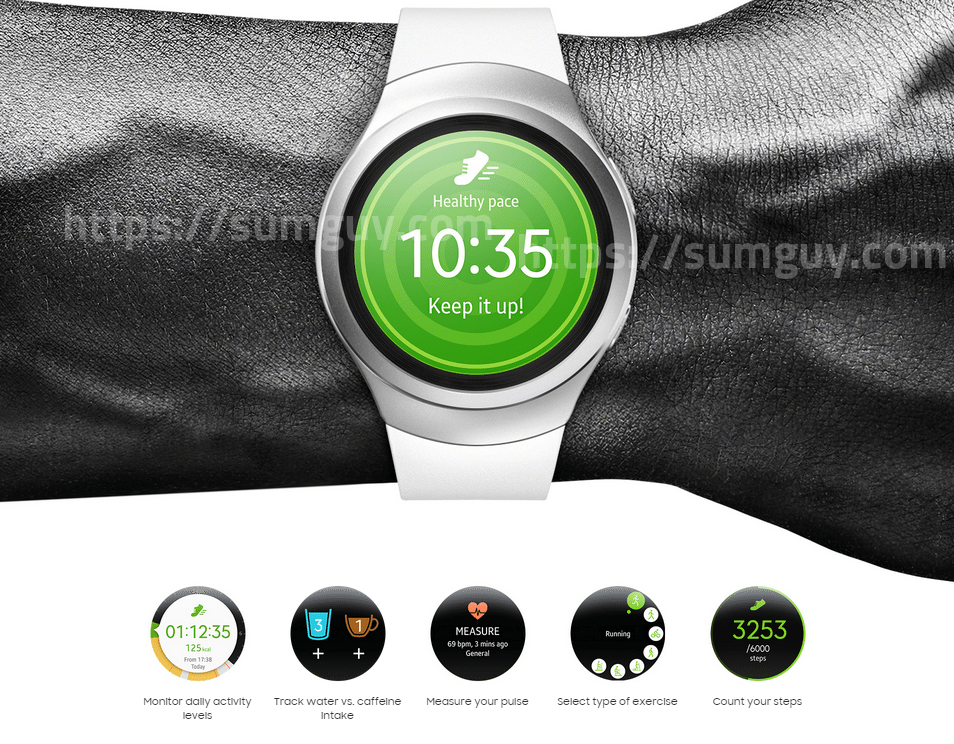 The worst part of the Samsung Gear S2 is the Tizen OS, which makes it less compelling on the market. It does have third party apps,but they are few and inconsistent with what Android and Apple third party devs can do, at least for the moment. A redeeming quality of the smartwatch is the user interface accompanied by the watch faces.
Conclusion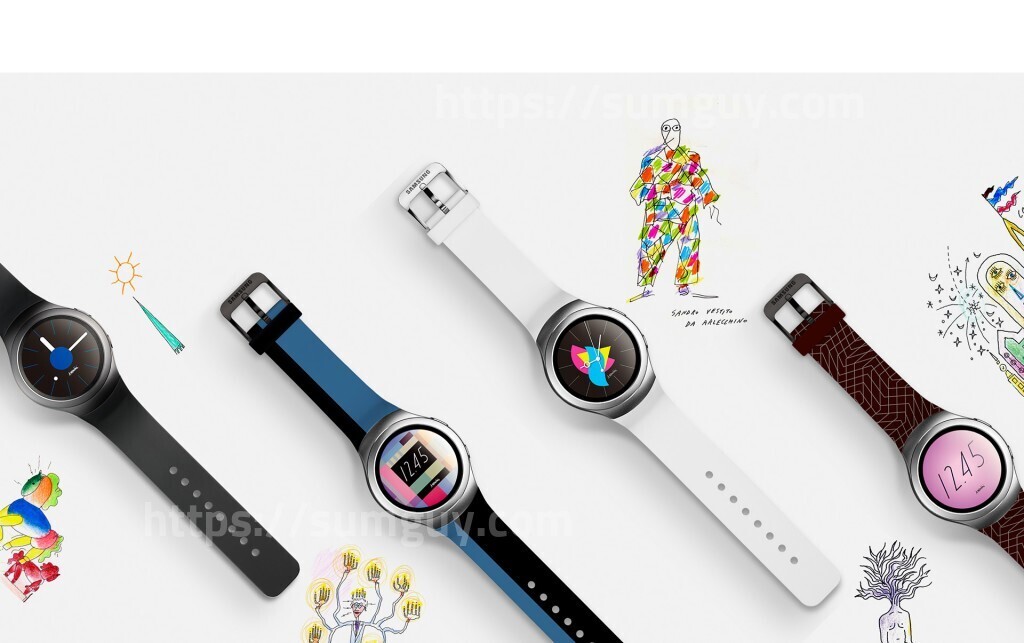 Gear S2 manages to break free from the minuses of the previous Gear smartwatch series and it finally shows us what Samsung is all about. A new and much improved design plus a nice interface and rotating bezels will definitely make the Gear S2 stand out. Look-wise, it is one of the best-looking smartwatches out there, proving that Samsung's change of aesthetic choices could make it rule the mobile world again!
Media source: Samsung