Samsung Galaxy View – meet the 18-inch tablet you need a handle to carry!
Fashion always changes and lately the mobile world has seen smartphones with bigger and bigger screens. None is bigger than the new Samsung Galaxy View tablet though, a monolith of 18 inches that we will be able to use in the near future. Why do you still need a tablet or a laptop when you have one of these big boys at hand?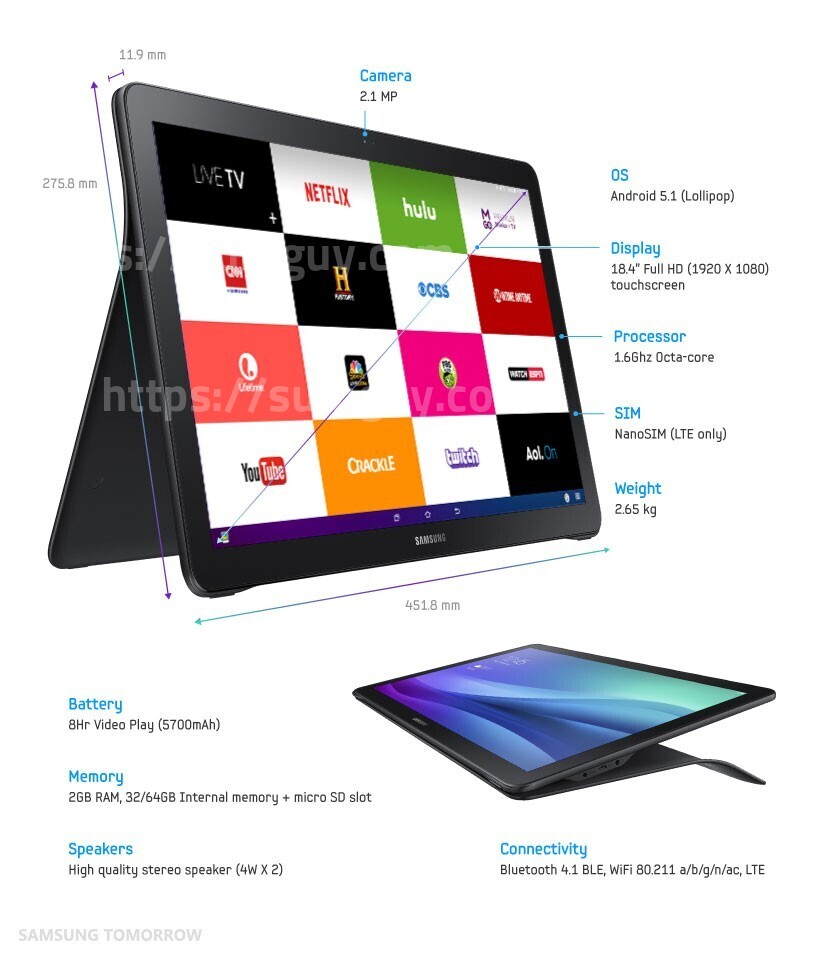 The age of small flimsy tablets is over. Now we have 6-inch smartphones and 8-inch tablets, but what about the future? What about the bigger and better trend? Samsung has thought of all these things and came up with a huge solution, a solution that you need a handle to carry around. Meet the Galaxy View!
Below you can see an interesting graphic that provides relevant specs for this huge tablet. According to the released images, here's what we know so far:
5700 mAh battery
18.4" full HD (1920x1080p) touchscreen
2.1MP frontal camera
2GB of RAM
32/64GB internal storage plus a micro SD slot
Bluetooth 4.1 BLE, LTE, WiFi 80.211 a/b/g/n/ac
two 4W high quality stereo speakers.
Samsung Galaxy View runs on Android Lollipop 5.1 and it will have a video-centric UI that should compliment the large screen. The device itself is supposed to weigh somewhere around 2.65kg/ 6 pounds, and in order to help you carry it around it will have a handle in its kickstand. You may want to be careful when carrying around a giant tablet though, for the roads are rough and full of cement.
Samsung did not mention a possible price for this mega-tablet, but we found a $599 online price for the 32GB WiFi model. Would you consider buying a 18-inch tablet in the near future? Do you think such a huge touchscreen device is useless on the market right now? Let us know in the comments below!
Source: Samsung