Samsung Galaxy Tab Active launched at IFA Berlin – Samsung's first rugged tablet hits the corporate market
One of the newest ruggedized tablets out there was launched at IFA Berlin today, and we're talking about the new Samsung Galaxy Tab Active, of course! The 8" device has dust protection filters and IP67 water protection and it earns its name by adding a chunky body that resists drops from up to 1.2 meters or four feet. The tablet includes a C Pen stylus, physical buttons and a removable battery!
With the Tab Active, the South-Korean tech monolith is trying to attack the rough business market where workers and businessmen need devices that resist in tough environments. The tablet incorporates a dockable POGO pin charging option and the KNOX encrypting system.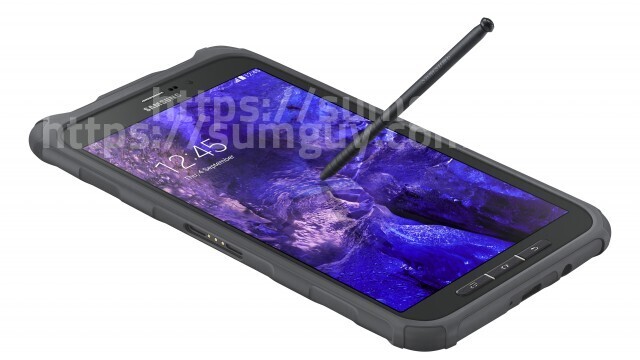 Hardware specs:
1280×800 LCD screen
1.2 GHz quad-core processor (Snapdragon 400)
1.5 GB of RAM
3.1 MP rear camera – with LED flash
16 GB of storage + microSD slot
Wi Fi, Bluetooth, NFC, LTE
4500 mAh battery
Android 4.4 – with TouchWiz UI.
Tab Active weighs 393 grams and is a bit thick, measuring 9.75 mm in depth. Samsung has not disclosed what protects its device's screen though, which makes us think that the sapphire protection was not used – as it would have been heavily advertised –; instead, we will have to work with Gorilla Glass.
Samsung Tab Active does not have a launch date or a price at the moment. Considering the vertical integration Samsung mentions in its press release, the device will probably be sold in bulk to businesses and micro-businesses. 
Source: Samsung Mobile Press