Samsung Galaxy S7 Edge AnTuTu benchmark shows possible specs
Samsung Galaxy S7 Edge  appeared in AnTuTu tests this morning and it appears that some rumored specs will not make an appearance in the device. According to this "official" spec benchmark, Samsung's 2016 flagship will have a 5.1-inch QHD display paired with a Snapdragon 820 processor and some other interesting features like water resistance and an SD slot.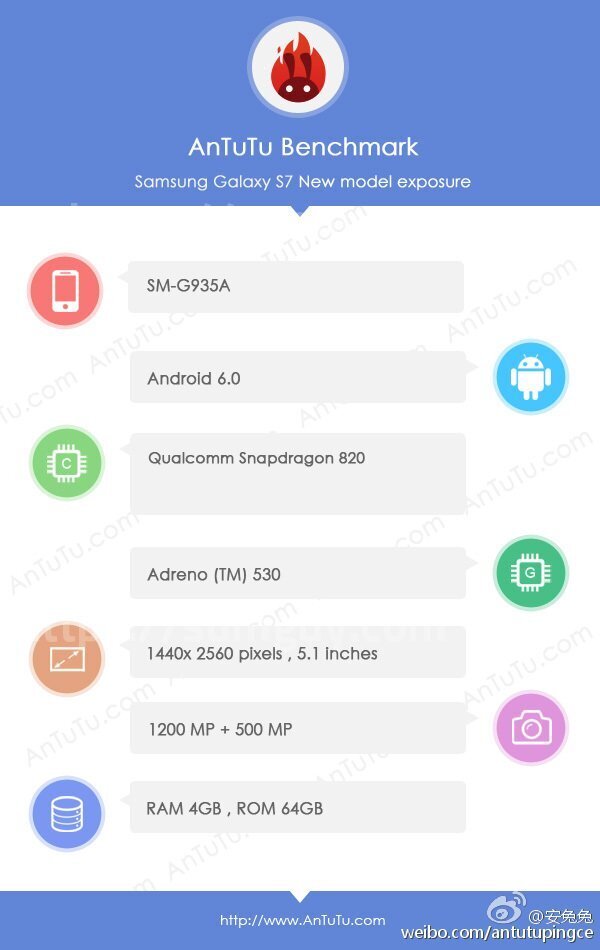 Apart from the processor and display size, Galaxy S7 Edge AnTuTu information says that the device will have 4GB of RAM, and a 12MP rear camera. Why only 12MP though, other reports put the camera at 20MP?! Galaxy S6 and S6 Edge have 16MP back cameras and this drop in megapixels could be seen as an alarming point for many, but less MPs does not mean less-detailed pictures. It could just mean a slight drop in overall resolution. Previous reports suggested a camera with an aperture of f/1.7, which means that Samsung fans should not feel startled yet.
The last piece of info from the AnTuTu benchmarks relates to the OS, which will be, of course, Android 6.0 Marshmallow. No surprises there.
Source: Droid Life