Samsung Galaxy S6 Edge Plus rumored to have QWERTY keyboard case!
Samsung Galaxy S6 Edge Plus is rumored and expected to launch at Samsung's Galaxy Unpacked event on August 13th and until then leaks will keep showing up everywhere. Veteran "leaker" @evleaks has done it again and released a rendered image of a device that looks very much like an Edge smartphone with a QWERTY keyboard case. Could this be the next big thing when it comes to smartphone accessories and fashion?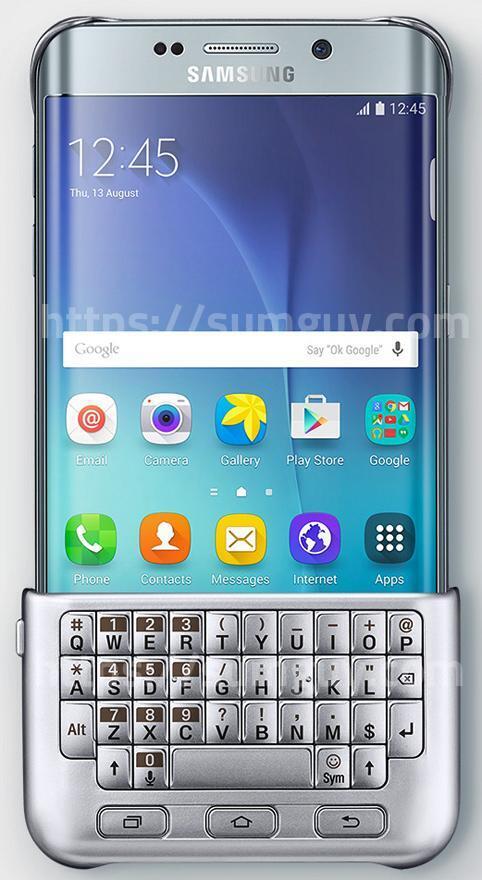 The Samsung Galaxy S6 Edge Plus is speculated to be the bigger version of its namesake. It should differentiate in the size of screen and its QHD display plus a possibly better processor: 2,1 GHz Exynos 7420 64-bit. The device will also sport a 16MP rear camera and a 6MP frontal camera, plus 32GB of internal storage to store those beautiful media files of yours.
Evan Blass showed on Twitter that this Android smartphone could present a QWERTY keyboard case too. We're not sure if we like this image or not, mainly because the Samsung Galaxy device has some nice curves and that innovative double edge screen which would be encased in a piece of chromed alloy if this were to be true. On a different side, it could help folks who find it hard to type out texts on a touchscreen. The case even contains three physical Android navigation keys at the bottom to make everything easier to access.
Nothing is confirmed at the moment, and we are still a few days apart from the event. This accessory could not even make an appearance next to the Samsung Galaxy S6 Edge Plus or the Galaxy Note 5, which is rumored to share an announcement.
Source: IBNLive