OnePlus One to get Cyanogen 12S update in mid March
OnePlus One will be getting an OS update as soon as March, OnePlus co-founder Carl Pei mentioned in a Twitter message today. The company's first and only phone is getting an update to CyanogenMod 12S in late March, about the same time OxygenOS will be making its appearance.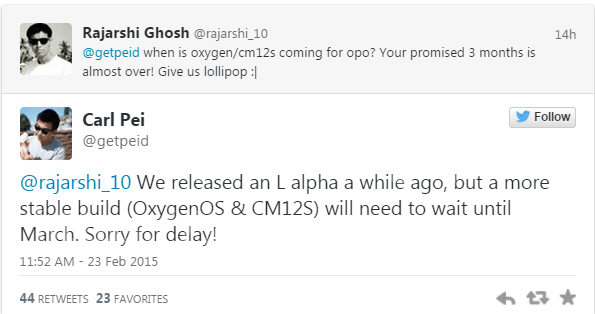 Pei also noted that the 90-day deadline set to bring the phone to Android 5.0 failed because of some "proprietary drivers, QA, codes and certifications".
OnePlus had a nasty divorce from Cyanogen Inc., meaning that an update could have been dead from the get-go. We're not sure if there will be a CM13S update for the One but it is possible that OxygenOS will take over and it could become OPO's future.
Source: AndroidPolice