Nexus 9 – the first photos of the new sturdy Android flagship appears in Vietnam
Nexus 9 was announced yesterday and, even if the entire world has to wait a bit before getting its hands on the Google tablet, someone in Vietnam is walking around with one and was kind enough to make a little hands-on review for the rest of us! If yesterday we saw some decent renders of what the new tablet can be; now we finally see the reality of what it means to be the new Google star.
Tinhte.vn is the first site to publish some real photos of the new device and it looks rather sweet. The 4:3 ratio has an 8.9" screen adorned with front speakers crafted by HTC. The folding keyboard case is pretty neat itself, proving to be slick, functional and easy to use. You can sit and write a book on it or publish your next article on your blog with ease, or – why kid ourselves – tweet and Facebook all you want!
The HTC-made tablet is not aluminum made, but it does sport aluminum sides. It is available in multiple professional colors (White, Black and Grey) and seems easy to use and always handy. It has a soft –grip back with a curve + angle construction inherited from Nexus 5 and Nexus 7.
Under the stylish hood, Nexus 9 hides the following:
8.9" IPS display at 2048x1536p

64-bit Tegra K1 processor running at 2.3 GHz

2 GB RAM

16/32 GB storage

8 MP rear camera and 1.6MP front snapper

6700 mAh battery.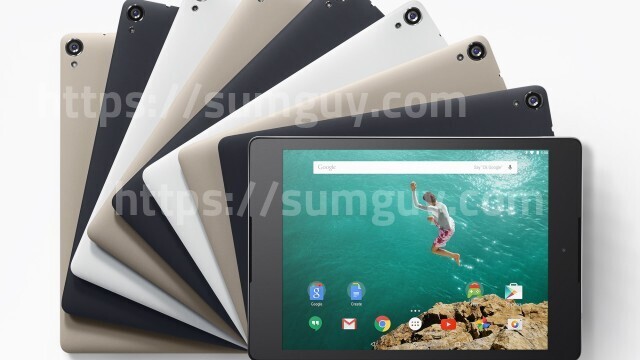 Google's new tablet is not very fat either, considering its specs, as it is 7.95mm thick, and weights around 495g. It sports the HTC branded Boomsound front speakers and is compatible with the turbo charger to assure around 6 hours of usage for only 15 minutes of charging. Of course, the device will come packed with Android Lollipop, the newest possible OS from Google.
https://www.youtube.com/watch?v=yYHY3MFiq1o
The 16 GB Nexus 9 will be sold for $399 whereas the 32GB model is expected to sell for $479. There is also word of a 32GB LTE version which will cost around $599. The tablet will start being preordered today and it will appear in stores in November 3rd.
 Source: Tinhte.vn
[wdsm_ad id="1484″ class=" " ]