New Humble Mobile Bundle appeals to the Humongous child heart of yours
The newest Humble Mobile Bundle will definitely bring your young heart back out from under that grownup daily routine. You can, of course, buy the bundle for your kids if you want to, yeah.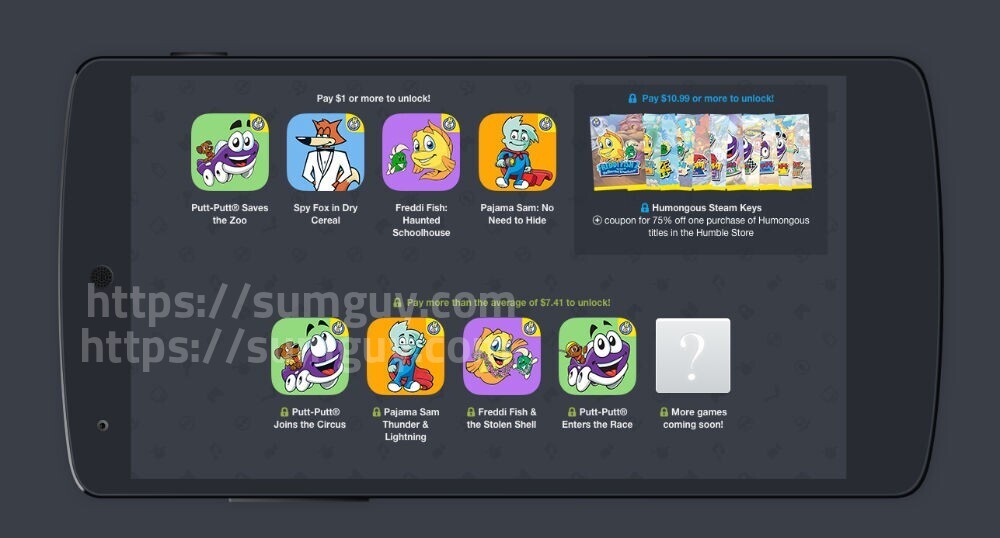 The current average price for the bundle is $7.41, and for paying this you get eight games, plus some more that will be added this week. If you decide to pay $11 or more, you will get Steam keys for these games as well. You can, of course, buy them for $1, but you will only get 4 of them.
The Humongous Humble Mobile Bundle minimum deal gets you Pajama Sam: No Need to Hide, Freddi Fish: Haunted Schoolhouse, Spy Fox in Dry Cereal and Putt-Putt® Saves the Zoo.
If you pay the average sum, you will also get Putt-Putt® joins the Circus, Putt-Putt® enters the Race, Freddi Fish & the Stolen Shell and Pajama Sam Thunder & Lighting.
Paying $10.99 or more for the Humble Mobile Bundle will also get you Humongous Steam keys for the games plus 75% off of one purchase of Humongous titles in the humble store.
But wait! That is not all! If you are feeling generous and want to give $29.99 or more, you will unlock the Humongous Scent "n" Socks, a mini-bundle that will give you a pair of Pajama Sam socks and a Putt-Putt air freshener along with all of those fun games.
The Humongous Humble Mobile Bundle will last for around 13 more days, so you still have time to make your mind up about it.
Source: Humblebundle