Mount & Blade 2 Bannerlord trailer
[et_pb_section admin_label="Section" fullwidth="on" specialty="off"][et_pb_fullwidth_post_title admin_label="Fullwidth Post Title" title="on" meta="on" author="off" date="on" categories="on" comments="off" featured_image="on" featured_placement="background" parallax_effect="off" parallax_method="on" text_orientation="center" text_color="dark" text_background="on" text_bg_color="rgba(255,255,255,0.9)" module_bg_color="rgba(255,255,255,0)" title_all_caps="off" use_border_color="off" border_color="#ffffff" border_style="solid"] [/et_pb_fullwidth_post_title][/et_pb_section][et_pb_section admin_label="section"][et_pb_row admin_label="row"][et_pb_column type="4_4″][et_pb_video admin_label="Video – intro" src="https://www.youtube.com/watch?v=pTbaWgLjN6s" /][et_pb_text admin_label="Text" background_layout="light" text_orientation="left" use_border_color="off" border_color="#ffffff" border_style="solid"]
I loved mount & Blade series, it was pretty awesome to recruit people from villages, train and attack large towns and castles with them. so I was excited to hear the new iteration of the series Mount & blade 2 bannerlord is on its way! Check out the Mount & Blade 2 Bannerlord trailer above.
On one hand im excited that the graphics got an overhaul, but man those battles could get real large….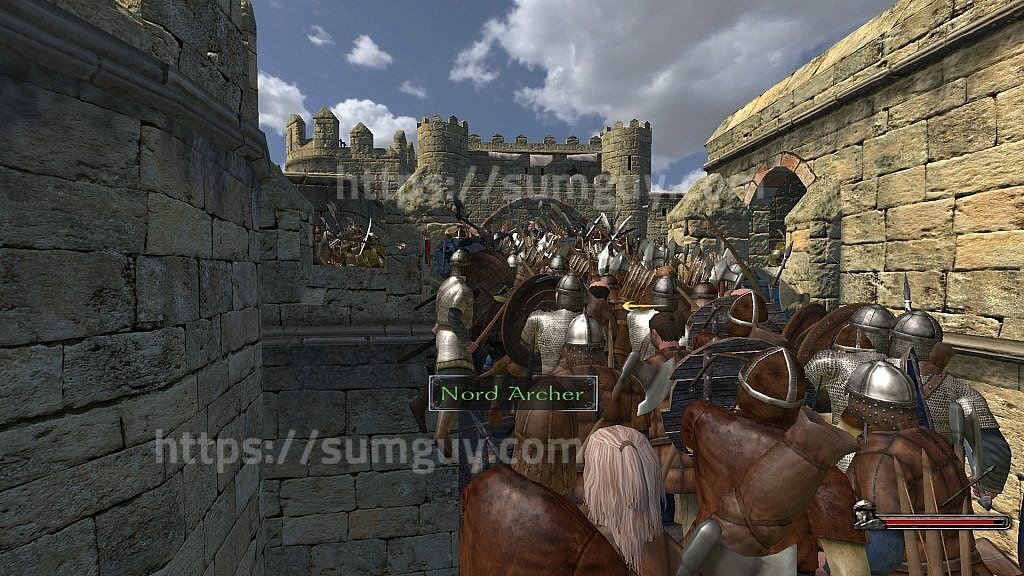 Well what happens when you have 1000 or 1500 chars on single battlefield. Cant wait for the burning smell of my GFX card then 🙂 So what has Taleworld done in the past 5 years since the last copy of M&B? well they have designed, written & implemented a whole new game engine! Im hoping it is a fully moddable engine like their old one which really allowed modders a lot of freedom. Another cool additive is the replay system which allows us to replay old battles from various angles and points allowing for cinematic excellence, hopefully this will bring lots of awesome cuts of M&B battles to youtube in the near future.
They have added a whole new bartering system to the game. Some of you might be thinking, hmm did they clone the witcher series? well maybe, but the thing is I love the witcher series and they are my all time top fav games of their genre but they don't own the bartering system in games, it has been there for a long time in many games.
here's a developer preview of how they designed parts of the game and why they designed it that way. such as the way they optimize the terrain to maximize view distance.
Info gleaned from various sources including by not limited to Taleworlds blog.
[/et_pb_text][et_pb_gallery admin_label="Gallery" gallery_ids="755,772,757,758,759,760,761,762,763,764,765,766,767,768″ fullwidth="on" show_title_and_caption="on" show_pagination="on" background_layout="light" auto="on" auto_speed="7485″ hover_overlay_color="rgba(255,255,255,0.9)" caption_all_caps="off" use_border_color="off" border_color="#ffffff" border_style="solid" /][et_pb_video admin_label="Video – gameplay" src="https://www.youtube.com/watch?v=3P8AYtiaaFE" /][/et_pb_column][/et_pb_row][et_pb_row admin_label="row"][et_pb_column type="4_4″][et_pb_text admin_label="bottom above footer" background_layout="light" text_orientation="left" use_border_color="off" border_color="#ffffff" border_style="solid"]
[bsa_pro_ad_space id=5 if_empty=6 hide_for_id=953,680]
[/et_pb_text][et_pb_divider admin_label="Divider" color="#ffffff" show_divider="off" divider_style="solid" divider_position="top" hide_on_mobile="on"] [/et_pb_divider][et_pb_text admin_label="Text" background_layout="light" text_orientation="left" use_border_color="off" border_color="#ffffff" border_style="solid"] [jetpack-related-posts] [/et_pb_text][/et_pb_column][/et_pb_row][/et_pb_section]