LG Nexus 5 2015 leaked in internal photos
Google is almost ready to release its new incarnations of the Nexus 5 and Nexus 6 later this year and a new leak may show us what the LG device looks like. Google chose to partner with LG and Huawei for this year's rendition of its Nexus devices and below you can see the newest addition to the LG nexus 5 leaks.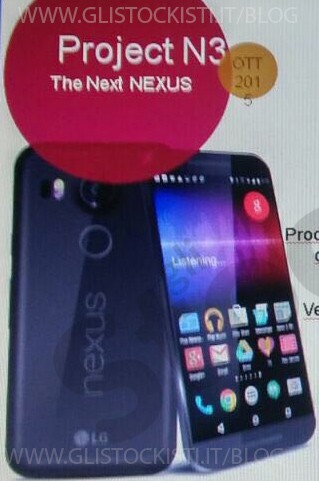 The device shown presents the Nexus as a Project N3 device, which is pretty accurate considering this is the third Nexus that LG produces for Google. The image shows both the front and the back of the device and, as we can see, the back renders seen before were pretty much accurate. The round fingerprint scanner is present just below the camera sensor and there are dual front-facing speakers to be seen as well.
Nexus 5 2015 specs
This leak comes bearing specs as well, and some of the details are a little surprising. The LG Nexus 5 2015 will have a 5.2-inch full HD (1080p) display and under the chassis you will find a hexa-core Qualcomm Snapdragon 808 processor paired with 2 GB – you read right, only 2 GB – of RAM. The entire device is powered by a 2,700 mAh battery, a rather small cell for today's needs. But it could work out.
Keep in mind that these specs were not confirmed by Google or Nexus officials so they could be wrong.
Source: AndroidCommunity