LG G Flex 2 available on AT&T stores and online starting April 24th how much does it sell for?
LG G Flex 2 is on its way to AT&T. The smartphone will apparently launch online and in stores on April 24th, and the curved device will sell for $709 full price or $300 with a two-year contract.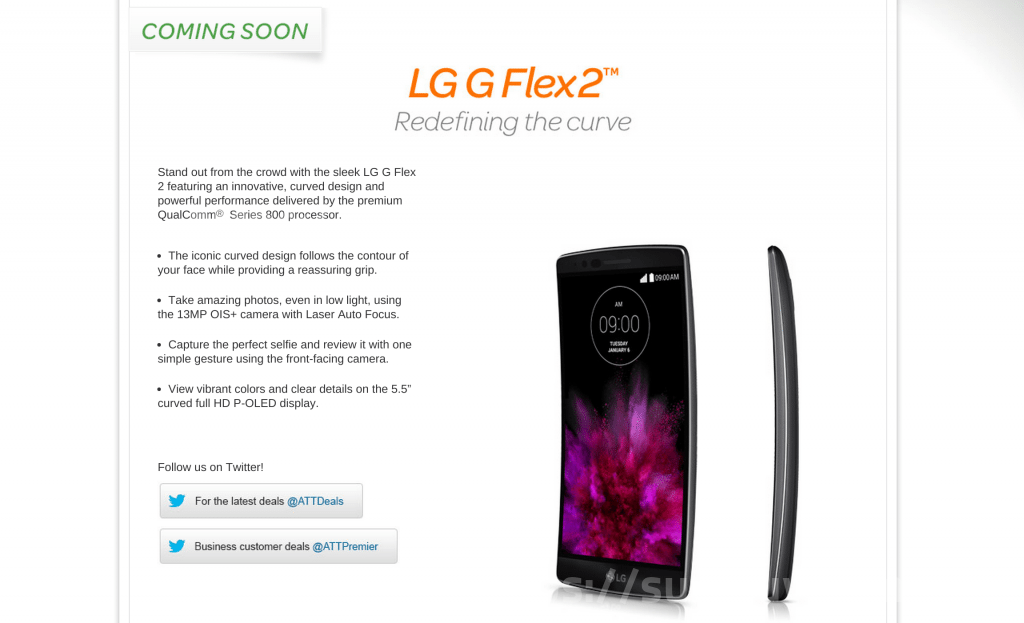 LG's second curved smartphone is finally making its way at AT&T at a rather spicy price, at least compared to other US carriers. If you buy the device full price, you can spread the payment in 30 pieces of $23.64, or choose a 24-month payment plan of $29.55 a month or 20 payments of $35.45.
The only upside to this price is that AT&T offers the G Flex 2 with 3 GB of RAM, whereas Sprint is giving the 2GB version at $199.99 with a 2-year contract.
[box type="shadow"]Press release: 
LG G Flex 2™ Available at Select AT&T Retail Stores and Online Starting April 24
AT&T will offer the G Flex 2 for the phone for $709, which you can break down into 30 payments of 23.64, 24 months of $29.55, or 20 installments of $35.45. Alternatively you can hand over $300 and sign a two-year contract. However you slice it, this is significantly more money than Sprint wants for the same device, though at least AT&T's version comes with 3GB of RAM.
Next Generation Smartphone with Revolutionary Curved Display to be Available for $0 down on AT&T Next
DALLAS, April 20, 2015 – AT&T1 announced the LG G Flex 2™ in Platinum Silver will be available for purchase in select AT&T retail stores and on www.att.com starting Friday, April 24. The award-winning G Flex 2 is the latest addition to the largest portfolio of LG smartphones available from any U.S. carrier.
G Flex 2 Features
The G Flex 2 is the latest addition to LG's G Flex line of smartphones and has been improved with an advanced curved design and a slimmed down, higher resolution display to support better ergonomics.
The iconic curved design of the G Flex 2 follows the contour of your face, while also providing a reassuring ergonomic grip, which makes it easy to hold and operate. While the 5.5-inch Full HD P-OLED curved display of the G Flex 2 provides stunning color and smooth crisp video.
The smartphone features a 13 megapixel rear-facing camera with Laser Auto Focus and OIS+. Laser Auto Focus allows you to focus fast while the floating OIS+ lens steadies the shot for sharp, focused imagery even in less than ideal lighting situations. The rear camera supports a variety of shooting options, including a voice activated Cheese Shutter, Burst Shot and Panorama Shot. Easily take and preview selfies with the front camera that supports LG's Gesture Shot. A simple hand gesture activates the count down timer to take the selfie, and Gesture View enables you to automatically preview the picture when you lower your arms.
The G Flex 2 also features convenient notifications with Glance View. Key information such as time, recent messages or missed calls is discretely displayed with a downward swipe from the top of the curved screen – even when the smartphone is asleep and the display is off.
Under the hood, the G Flex 2 runs the powerful Qualcomm Snapdragon 810 Octa-Core processor, featuring 64-bit capable CPUs optimized for Android 5.0, making it speedy enough and efficient for robust multi-media playback and multi-tasking.
Other key features include:
Dimensions: 5.87 x 2.96 x 0.35 inches
Operating System: Android 5.0 Lollipop
Processor: Qualcomm® Snapdragon™ 810 Octa-core processor
Storage: 3 GB RAM and up to 32 GB internal storage, additional storage available via the internal microSD slot that supports up to a 2TB microSD card2
Battery: Fast Charge3 3,000 mAh (LG Fast Charger is included in the box)
G Flex 2 Pricing
The LG G Flex 2 runs on the nation's most reliable 4G LTE network and the network with the nation's strongest 4G LTE signal.4 Qualified customers can purchase the G Flex 2 for $0 down with AT&T Next5 at $23.64 per month for 30 installments on AT&T Next 24, $29.55 per month on AT&T Next 18 for 24 installments, or $35.45 on AT&T Next 12 for 20 installments. You can also buy the smartphone for $299.99 with a two-year agreement6 or at no annual commitment for $708.99.7
[/box]
Source: PR Newswire via AndroidPolice