Lenovo unveils Tab S8 at IFA Berlin – mid range tablet at an affordable price
Lenovo announced its Tab S8 at IFA Berlin today. Lenovo preferred to announce all of its new devices at once without too much of a fuss and among its treasures we found the Tab S8, the only Android device in the bunch.
Tab S8 is a 8" device with a mid-range hardware construction that will presumably sell at the price of only $199. The IPS screen has a 1920 x 1200 16:9 resolution and inside you will find a quad-core Intel SoC at 1.87 Ghz with 2 GB of RAM and 16 GB of storage – a bit disappointing considering the lack of a MicroSD slot.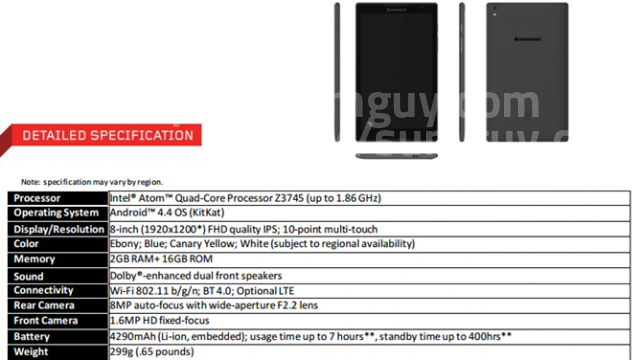 On the front you will find the two speakers and a 1.6 MP camera whereas on the back you can find the 8 MP camera. Tab S8 comes Android 4.4. ready with a Lenovo skin on top.
The tablet will begin selling in stores at the end of September, Lenovo says. It will be available in white, black, yellow and blue variants. It also presents a 3G/LTE version which will be available in few stores though, but you can search for it as it launches or order it from the Lenovo site. 
[wdsm_ad id="1484″ class=" " ]