Lenovo announces new Yoga Tablet 2 versions: 13-inch Pro and 8 and 10-inch regular devices
Lenovo announces three new devices coming on the market sometime this month. The new Tablet Pro 2 will be available in 8, 10 and 13" combos it appears, each sporting illustrious specs and battery life expectancy.
The first 2 Pro tablet has a huge 13.3" screen with a built-in subwoofer and a Pico projector. It seems that the product was designed with the help of Ashton Kutcher, as Lenovo says, which makes things even weirder. The new 2 Pro tablet has a redesigned kickstand as well, which has holes that work as camera and hanging points, depending on occasion.
The new tablet 2 Pro will cost around $500 and it presents the following specs:
13.3" 2560x1440p screen

Atom Z3745 quad-core processor at 1.86 GHz

2 GB of RAM

32 GB of storage with microSD slot

9600 mAh battery (lasting 15 hours, according to Lenovo)

1.6MP camera up front with an 8MP camera in the back

Two Dolby stereo speakers

5 watt JBL subwoofer on the left

Projector lens on the right (projecting images up to 50" from six feet distance).
Tablet 2 Pro 13 is weighing 2.09 pounds, a bit heavy for a portable device, but considering what it's packing, its weight is understandable.
Yoga Tablet 2 Pro runs on Android 4.4 and is already being sold on Lenovo site for $499.99.
The 13" version is accompanied by the 8 and 10" versions who are renamed Yoga Tablet 2. They both use processors, RAM and cameras as powerful as the 13" version above, but they only have 16 GB of storage each. Each tablet has a 1920×1200 screen. The 8" version gets a 6400 mAh battery lasting 18 hours while the 10 inch version gets a bigger 9600 mAh battery lasting the same time.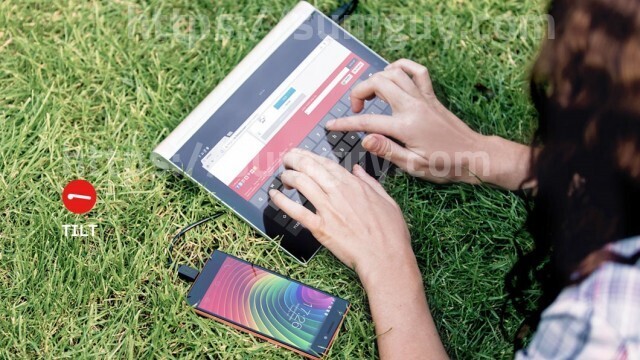 The Yoga 2 8" will be available for $249.99 while the Yoga 2 10" will require $299.99. They will go on sale later this month. Windows versions will also be available shortly, but they do not present dual-boot options.
Source: Lenovo