Kyocera DIGNO – the first washable smartphone in the world exclusive to the Japanese market
We all enjoy a good waterproof smartphone once in a while, but what if someone came up with an awesome idea? This invention comes from the Japanese market – of course – and it promises to bring us all washable phones! Kyocera DIGNO rafre is promoted as a prototype for a smartphone you can wash with soap and hot water!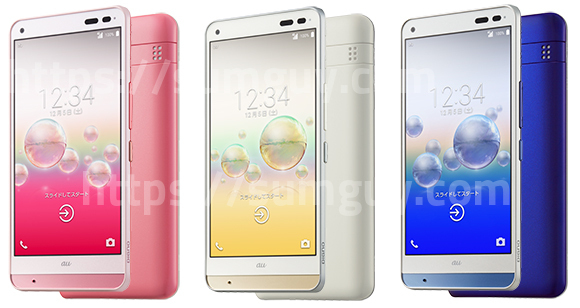 This is legit the first hand-soap-washable phone, since no one else coined this term yet. It is water resistant for water warmed up to 43 degrees C or 103 F. The phone is also said to be temperature resistant, vibration resistant and it should heal its back when it is scratched. Of course, all these features will only be available in some – very special – conditions. Even if you can wash the phone with hot water and soap, it was not tested with ALL soap brands and it is not recommended to submerge it in water.
https://www.youtube.com/watch?v=Vc6eNqoLeQs
The Kyocera smartphone will be available in multiple color options: Coral Pink, Marine Navy and Cashmere White and it does not have an official price yet. What's sad is that it may never expand from the Japanese market.
Official Kyocera washable phone specs:
Colors Coral Pink, Cashmere White, Marine Navy
Size (W×H×D) / Weight Approx. 71×141×10.1mm / Approx. 155g
Battery 3,000mAh
Charging Time Approx. 160 minutes when using the common AC adapter 05(sold separately)
Continuous Call Time /
Continuous Standby Time Approx. 1,300 minutes (VoLTE) / Approx. 790 hours (4G LTE/ WiMAX2+)
Operating System Android™ 5.1
Memory Internal memory: 16GB ROM / 2GB RAM
External memory: microSD™ / microSDHC™ / microSDXC™
(up to 128GB)
Compatible Communication 4G LTE / WiMAX2+
Maximum Communication Speed Reception: 150Mbps
Transmission: 25Mbps
Display Approx. 5.0-inch HD TFT LCD
Camera Main camera: Approx. 13-megapixel CMOS
Front-facing camera: Approx. 2-megapixel CMOS
External Connection Wi-Fi®: IEEE802.11b/g/n/ (2.4GHz only)
Bluetooth®: Ver.4.1
Other external devices: Stereo earphone jack
OFFICIAL PRESS RELEASE:
[box type="shadow"]
KYOCERA Launches "DIGNO rafre," World's First Hand-Soap-Washable Smartphone
Features soap and hot water resistance newly enabling use while taking a bath
December 8, 2015
(This product is only available to the Japanese market.)
Kyocera Corporation (President: Goro Yamaguchi) today announced the launch of the new DIGNO rafre smartphone for KDDI Corporation — the world's first*1 smartphone with resistance against foaming hand soap*2.
In addition to resistance against shock, water and dust*3, DIGNO rafre features hot water resistance that enables use while washing hands or taking a bath*4. Furthermore, as the back face of the smartphone is coated with a "scratch-healing*5" material that allows everyday minor abrasions to self-heal, the DIGNO rafre can be used in pristine condition for a long time. The new device has an elegant, sleek design with two-tone colors and easy-to-grasp round form which comes in three colors: Coral Pink, Cashmere White and Marine Navy and is part of the new KDDI lineup announced on December 3.
See the promotional video
by KDDI for more information (Japanese).
Model
DIGNO rafre
Price
To be determined by retailer
Color
Coral Pink, Cashmere White, Marine Navy
Sales Company
KDDI Corporation,
Okinawa Cellular Telephone Company (Japan only)
Development Background
These days our smartphones have become a ubiquitous item that is carried every day. Their uses have dramatically expanded to not only calls and texts but also more immersive uses such as checking recipes during cooking and outdoor uses in harsh environments. Considering where and how often smartphones are carried and used, Kyocera developed this new product which enables users to keep their smartphone clean and pristine.
By utilizing Kyocera's proprietary waterproof technology and high durability, Kyocera offers the DIGNO rafre equipped with resistance to foaming hand soap*2 and hot water*4.
Main Features
1. Waterproof performance enables cleaning with foaming hand soap
Although soapy water has higher permeability due to its nature of lowering the water surface tension, the DIGNO rafre features improved waterproof performance that can be used with foaming hand soap by utilizing integral molding of the packing parts which have passed Kyocera's proprietary tests.
2.Hot water resistance*4 ideal for use while washing or bathing
In addition to conventional waterproof performance, the DIGNO rafre also possesses resistance to hot water. Furthermore, the new smartphone is equipped with a touch panel display that can be operated even if the screen or your hand is wet, allowing you to enjoy a bath while watching a video or using your device.
3. Scratch-Healing*5 for self-healing from minor abrasions
A coating that allows minor abrasions caused during everyday use to self-heal is applied to the back face of the smartphone, so the DIGNO rafre can be used in pristine condition for a long time.

4.Enhanced durability performance
The display utilizes scratch-resistant, high-strength Dragontrail® X glass and realizes additional protection by applying a structure in which the display is slightly recessed, thus enhancing durability against accidental drops. The DIGNO rafre also possesses vibration resistance enabling safe use in vibrating environments such as on bicycles and motorbikes and temperature resistance enabling users to enjoy winter sports.
*1 World's first smartphone available in the market with resistance to hand soap foam. Based on research by NEO MARKETING INC. (as of November 1, 2015).
*2 Waterproof performance equivalent to IPX5/8.
Kyocera's proprietary durability test (cleaning cycle test of hand-wash using hand soap foamed with water lathering and rinsing) was conducted. The product's features were confirmed based on the Kyocera's proprietary cleaning cycle test of hand-wash using hand soap foamed with water lathering and rinsing.
As for rinsing, completely remove the foam from the handset with gently running water. After cleaning, completely remove water by applying a dried soft cloth to the handset.
Ensure that caps, etc. are attached correctly before use. Clean with sufficiently foamed hand soap. Do not mix different types of hand soap. The product passed under the test conditions; cannot be guaranteed for all type of hand soap.
For details and precautions of cleaning method, see the au website (product page) or the instruction manual.
*3 Waterproof / Dust resistance equivalent to IPX5/8 and IP5X:
Rated for MIL-STD-810G six categories: Shock, Vibration, High Temperature (operating and in storage) and Low Temperature (operating and storage). The product passed the test conditions for the above categories; full operation cannot be guaranteed under actual conditions. Furthermore, there is no guarantee against damage.
*4 Kyocera conducted a proprietary test to check that the handset does not break down when splashed with hot water having approximately the same temperature (43°C or less) as that of hot water in a bathtub. Ensure that caps, etc. are securely fixed and attached before use. Do not carry in for a long time. Do not submerge in hot water in the bathtub. Do not submerge in hot springs or hot water with bath powders.
*5 Deep abrasions (including peeling of coating and break in coating itself) caused by high impact owing to dropping or throwing the product or by contact with sharp items cannot self-heal. The product cannot guarantee repair of all abrasions. The self-healing performance may be deteriorated or disabled depending on the environment of use (e.g., friction material, load, temperature).
"DIGNO" is registered trademarks of Kyocera Corporation in Japan. The service name "4G LTE" is based on the definition of 4G to include LTE by International Telecommunications Unions (ITU). LTE is a trademark of ETSI. Google, Android, Google Play and other marks are trademarks or registered trademarks of Google Inc. WiMAX is a trademark or registered trademark of WiMAX Forum. Wi-Fi® is a registered trademark of the Wi-Fi Alliance. Bluetooth® and the Bluetooth logo are trademarks of Bluetooth SIG, Inc. for which Kyocera has been granted permission to use. microSD, microSDHC and microSDXC are trademarks of SD-3C, LLC. Dragontrail® and its symbol mark are trademarks of Asahi Glass Co., Ltd. All company, system, and product names listed herein are trademarks or registered trademarks of the respective holders.
[/box]