iPad Pro announced today – a huge-er better tablet from Apple
The iPad Pro has finally become reality as the Apple Event held earlier today showed the device in all of its splendor. This is, indeed, a larger version of the regular iPad and Tim Cook, Apple's CEO, is rather excited about it.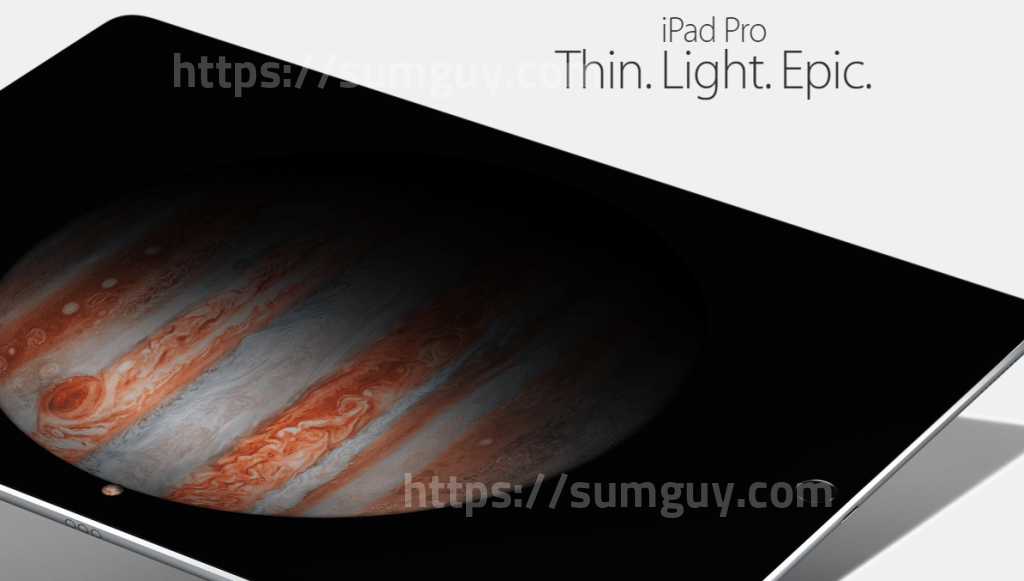 What do we get with the new iPad Pro?
Apple's new product sees a clear increase in size with its 12.9-inch display and this is great for the split screen apps that the new OS offers. The device has a variable refresh rate because it uses iMac's retina 5K display technology. Of course, this also means that you can slow the display down if you need to save some battery.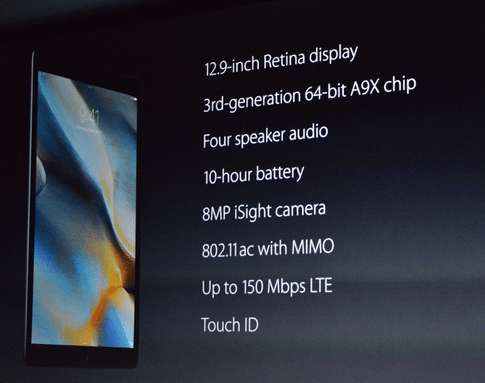 This Apple device uses the new A9X processor from the same line as the new iPhone 6S devices announced today. It is said to be 1.8 times faster than the previous chip Apple used. They also say that their graphics are much improved, to the point of being faster than 80% of portable PCs of the year.
https://www.youtube.com/watch?v=obnEaE7Fy14
The new iPad is said to have a battery that lasts up to 10 hours while it can edit three different streams of 4K video at the same time. Apple officials also say they added a four-speaker audio system that will allow the new OS to balance the sound according to how you hold the device.
The device is accompanied by some interesting "innovative" and expensive accessories, namely a keyboard and a stylus pen.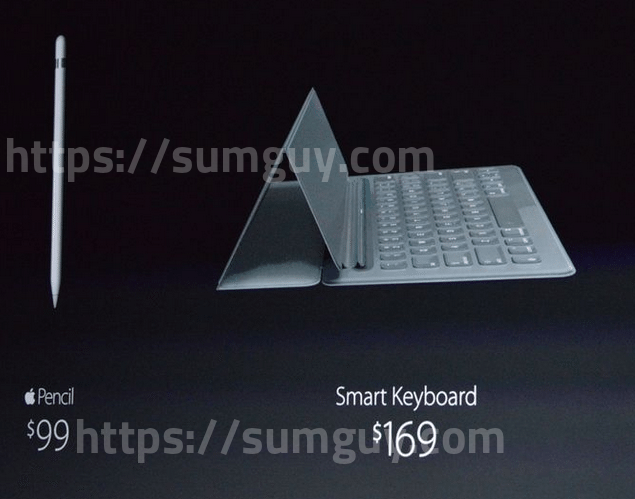 The Smart Keyboard "is unlike any keyboard you've ever used before" as Phil Schiller puts it. It is covered in a fabric that will form the structure of the keyboard and it has three circles on the side that connect it to the iPad Pro. Essentially it is just a keyboard with some fancy words and descriptions attached to it and you would pay $169 for it.
The other accessory addition is an Apple Pencil, a re-branded stylus for the pad. It has sensitivity sensors that you can press harder when you need wide strokes and lightly for fine and brief strokes. Apple officials say it feels just like a regular writing instrument. It can be recharged via a Lightning connector attached to the iPad Pro. Even Microsoft was invited to show just how well the Pencil works with their Office for iOS apps.
Another interesting app for iOS is Adobe Photoshop fix, that allows users to retouch images in a second. It even has facial detection, which lets users easily retouch faces too. Adobe Sketch works with the pencil as well. Apple Pencil will ease you of $99.
The iPad Pro has support for LTE and TouchID. The back of the device has an 8MP iSight camera.
The Pad will release sometime in November and there will be three color options available: Gold, Silver and Space Grey. It will be available in two storage volume options, namely 32GB and 128 GB, and three versions. The first one has a price tag of $799 (the Wi Fi version), while the 128GB with Wi Fi can be bought for $949. The Wi Fi + Cellular 128GB storage version will cost $1079. None of the device versions bundle with the keyboard or pencil.