Huawei's new Lithium-Ion battery charges ten times faster than normal batteries
Huawei's new Lithium-Ion battery could reportedly break the market and change mobile hardware forever, if we are to believe recent reports. This new battery supposedly reaches charging speeds ten times faster than usual.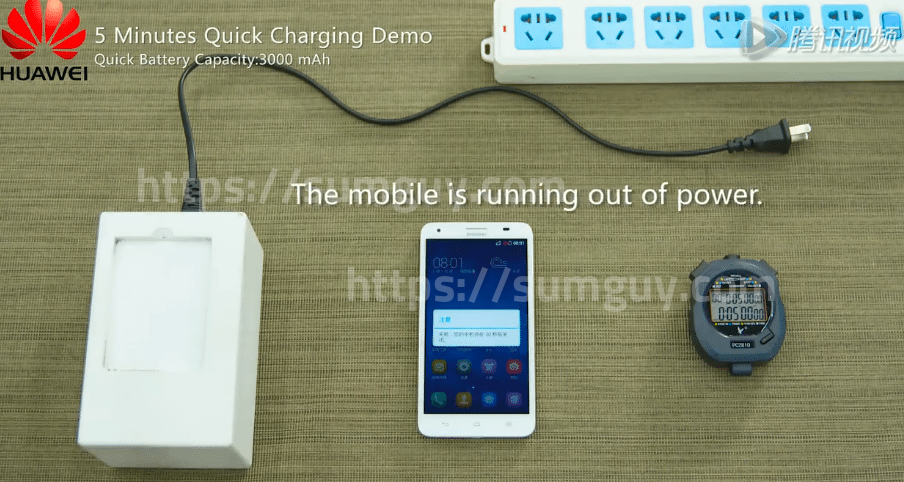 Huawei shared some details at the 55th Battery Symposium in Japan , where a video showed a 600mAh battery that charged to 68% in just two minutes. That could do wonders for bigger cells in the future.
A 3,000 mAh battery reached 50% in just five minutes. This could mean that smartphones of the future could get a full charge in 10 minutes max.
Comparing Huawei results to Qualcomm, Quick Charge 3.0 can fully charge a 3,000 mAh battery in half an hour.
For now, this revolutionary lithium-ion battery is used just for demonstrations. It will become available for smartwatches, smartphones and other wearables soon.
Press release:
Huawei reveals the next generation of quick charging technology
The new batteries can be charged 10 times faster than current batteries, reaching approximately 50% capacity in mere minutes
[Nagoya, Japan, Nov.13, 2015] Watt Lab, which belongs to the Central Research Institute at Huawei Technology Corporation Limited, unveiled their new quick charging lithium-ion batteries at the 56th Battery Symposium in Japan. Using next generation technology, these new batteries have achieved a charging speed 10 times faster than that of normal batteries, reaching about 50% capacity in mere minutes.
Huawei presented videos of the two types of quick charging lithium-ion batteries: one battery with a 600 mAh capacity that can be charged to 68% capacity in two minutes; and another with a 3000 mAh capacity and an energy density above 620 Wh/L, which can be charged to 48% capacity in five minutes to allow ten hours of phone call on Huawei mobile phones. These quick charging batteries underwent many rounds of testing, and have been certified by Huawei's terminal test department.
According to Huawei, the company bonded heteroatoms to the molecule of graphite in anode, which could be a catalyst for the capture and transmission of lithium through carbon bonds. Huawei stated that the heteroatoms increase the charging speed of batteries without decreasing energy density or battery life.
Huawei is confident that this breakthrough in quick charging batteries will lead to a new revolution in electronic devices, especially with regard to mobile phones, electric vehicles, wearable devices, and mobile power supplies. Soon, we will all be able to charge our batteries to full power in the time it takes to grab a coffee!
Huawei's Watt Lab works closely with industry partners to promote technological development and pursue a new energy era. Watt Lab specifically focuses on the technical development of energy storage to support a better connected world via sufficient energy.
Source: Huawei