HTC One E9 and E9+ official details revealed – lower spec One M9 clones destined for the Asian market
HTC One E9 details have been revealed in China and this time we're talking official stuff. It appears that there will be two E9 variants actually, the E9 and E9+ which is a previously leaked device. Neither of these smartphones is likely to release outside of Asia, so this could curb your enthusiasm a bit. If you're still interested in reading the details, read along.
HTC One E9+ is deemed a phablet with a 5.5"  2560×1440 LCD screen and it basically looks like a cheaper version of One M9 with its plastic back panel. It should be available in grey with gold trim, black with silver trim and white with gold trim. Under the hood you will find a MediaTex 8-core 2GHz processor with 3GB of RAM and 16GB of storage plus a microSD slot. It is powered by a measly 2800mAh battery and what saves it is its 7.49mm frame. The device still uses dual SIM with LTE and has a 20MP camera with a frontal HTC ultrapixel camera.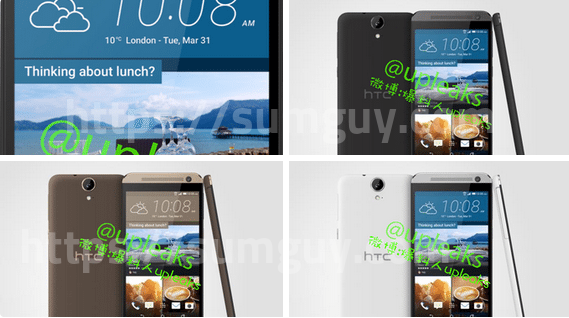 According to the4 same Endgadget Asian source, HTC One E9 has lower specs than the aforementioned device with a 1080p screen, 2GB of RAM and 13MP primary camera. No launch date or price as disclosed at the moment.
Source: HTC China via AndroidPolice
Photo source: @upleaks