[Deals galore] Get a free Galaxy S6 with your order at AT&T! Find out the deets below!
If you are an AT&T fan or you just want to jump ships to another US carrier, this may be your chance, especially if you love Samsung devices! The carrier currently has a holiday season promotion on Samsung Galaxy S6 where it offers buyers the option to get one free Samsung device when they buy one.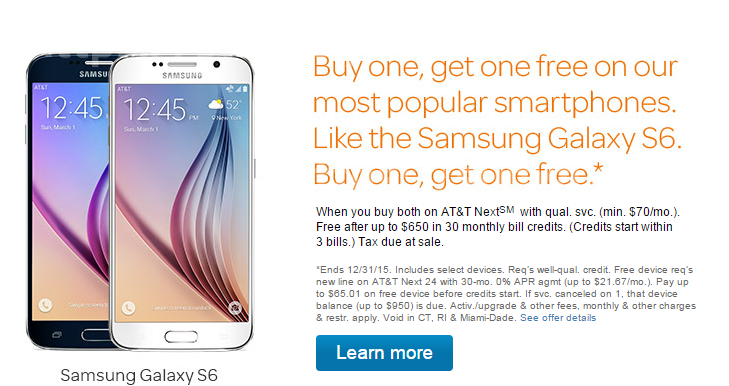 If you want to buy a Samsung Galaxy S6, S6 Edge, S6 Edge+, a Note 5 or an S6 Active, you will be able to get a free Galaxy S6 from AT&T. There are a few conditions you must agree to, of course, as nothing is truly free in this world of ours.
Firstly, you have to start a new mine of service in order to be eligible for a Galaxy S6, and you have to use AT&T's Next installment plan.
Secondly, the free phone will be included in a Next 24 plan. The "free" part of the plan has yet another caveat: AT&T will issue bill credits for 30 months adding up to $650.
If you don't mind the many bad sides of this deal, you can go ahead and enjoy this way to save some money. The offer will be good until December 31st. You can check more details in the source link below.
Source: AT&T