[Deal of the day] Amazon free apps and games bundle available on the Appstore now!
Apps, Free apps, get them while they're hot! Amazon is at it again with a new bundle of expensive apps turned into free purchases for a few days. Head over to the Appstore until April 19th to get your free apps and games before you have to pay real money for them (like $105 for all of them). You'll get some nice and interesting options to choose from or, if you just want them all, press ALL the buttons!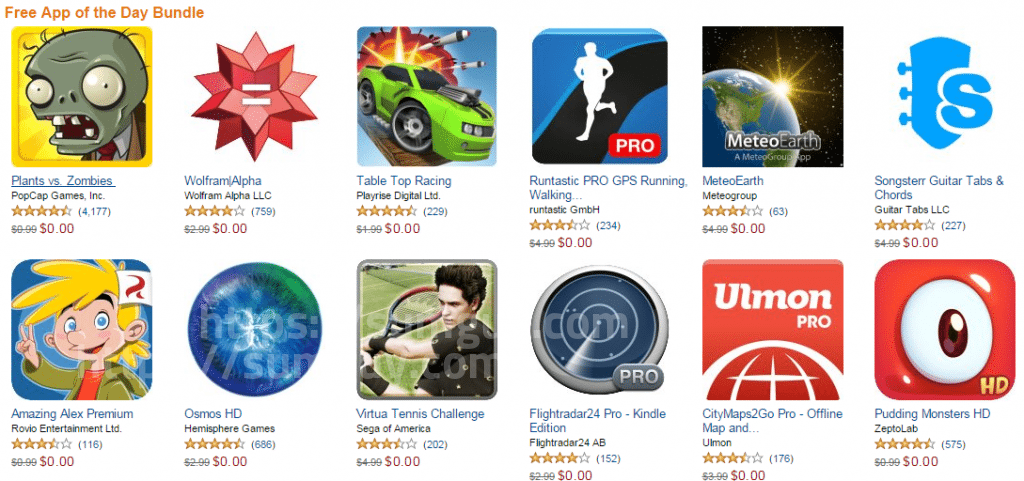 Available games:
Unmechanical
Fun English Course
Adventure Time Game Wizard
Virtua Tennis Challenge
Puddling Monsters Hd
F18 Carrier Landing
Chess And Mate
Osmos Hd
Prince Of Persia Classic
Plants Vs Zombies
Table Top Racing.
Available Apps:
Runtastic PRO GPS
Wolfram Alpha
Oxford Spanish Dictionary
Mobile Doc Scanner
Touchdraw
RDP Pro Client:Ardp
A Better Camera Unlocked
Lecturenotes
Splashtop Whiteboard
Citi Maps2go Pro
Flightradar24 Pro
Songster Guitar
Meteo Earth.
If any of the titles above is interesting to you hop over to Amazon straight from the source link below and choose your mobile poison. Remember though, this deal only lasts until April 19th. 
Source: Amazon Appstore