[Deal of the day] Amazon Appstore is 4 years old today and celebrates with free apps and games bundle worth $105 and a draw
Amazon Appstore is 4 years old today and the occasion begs for some presents, right? Well, Amazon being the good guys they are offering more apps for free that you would be spending a ton of money on if it weren't their birthday. If you don't already own one or more of the games and apps below, go ahead and pay the Appstore a visit, it's only one click away.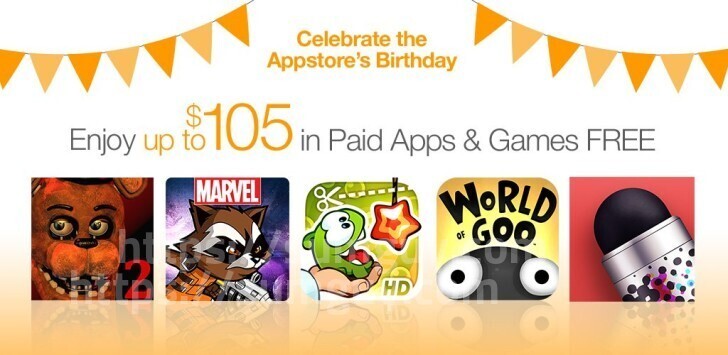 The bundle gives the popular horror game Five Nights at Freddy's 2 and if you download you receive $1 in credit you can buy a nice song with for example. That's not all as if you download at least one game you enter a draw and you could just win $25,000 as a reward. The bundle lasts until March 21st and all these free apps value $105, so they're not exactly cheap either.
Apps
Atomus HD – $2.00
Element of Photography Pro – $3.50
EasyTether – $9.99
Servers Ultimate Pro – $8.99
Repix – Full Version – $1.99
Business Calendar – $4.99
NeoCal Advanced Calculator – $9.99
Amelia and Terror of the Night – Story Book for Kids- $1.58
Reading Trainer – $2.99
HanDBase Database Manager – $9.99
G-Stomper Studio – $9.95
OpenDocument Reader – $3.92
FolderSync – $2.87
Cross DJ Pro – $9.99
Games
Five Nights at Freddy's 2 – $2.99
Cut the Rope – $0.99
SUPER WHY! – $2.99
World of Goo – $4.99
Alphabet Aquarium Vol. 1 – $1.99
Kingdom Rush Origins – $0.99
Ruzzle – $1.99
The Hidden World – $0.99
Unpossible – $1.99
Guardians of the Galaxy: The Universal Weapon – $2.99
SimplePlanes – $4.99
Monkey Preschool Explorers – $2.99
Enigmatis: The Ghosts of Maple Creek – $2.99
Bank Escape Pro – $0.99
Sago Mini Ocean Swimmer – $2.99
Chimpact 2 Family Tree – $1.99
Adventure Beyond Time – $0.99
Pumped BMX 2 – $2.99
Slingshot Racing – $0.99
Deep Under the Sky – $2.99
Source: Amazon Appstore