[Deal of the day] Amazon app deal with over 30 apps and games worth $110
Welcome to Amazon's deal day! This offer lasts one day only (ok, maybe 3) and it gets you $110 worth of games! Every now and then, Amazon likes to give its customers free stuffs in the form of apps and games, and today is such a day. Today's deal lasts until May 16th 11:59PM PST.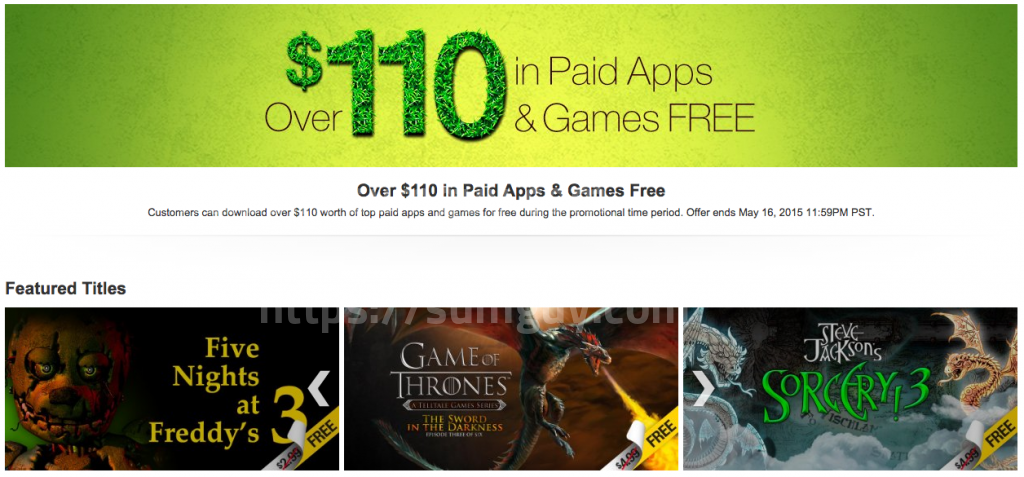 The offer itself includes over 30 titles which cumulatively cost over $110. The most resonating titles include Game of Thrones, Five nights at Freddy's 3, Sorcery!, Angry Birds Seasons, Bike Race Pro and Photo Studio PRO. You get games, apps, office utilities, language learning apps and finance management or photo manipulating applications. You can get to the Amazon offer page by clicking the source link below.
Here are the games you can get:
Game Of Thrones: A Telltale Games Series
Five Nights at Freddy's 3
Bloons TD 5
Bike Race Pro
Angry Birds Seasons HD (Kindle Tablet Edition) (Pictured)
Sorcery! 3
Toca Kitchen (Kindle Tablet Edition)
Cooking Dash Deluxe
Grudgeball: Enter the Chaosphere
Angry Birds Seasons (Ad-Free)
Sago Mini Space Explorer
Time Mysteries 2: The Ancient Spectres
Empress of the Deep: The Darkest Secret
Rebuild
Star Traders 4X Empires Elite
Star Command
Mini Golf Mundo
SUPER WHY ABC Adventures: Alphabet
Peppy Pals Beach – Fun EQ for Kids
Royal Envoy (Premium)
Highrise Word Heroes+
Apps you can get for free:
Photo Studio PRO
Deep Sleep with Andrew Johnson
AVG AntiVirus PRO Android Security
Mirroring360 – AirPlay Receiver
Xtralogic Remote Desktop Client
PicShop – Photo Editor
Perfectly Clear
Smart Office 2
Daily Expense Manager PRO
Language Coach
Genius ScGame Of Thrones: A Telltale Games Series
Five Nights at Freddy's 3
Bloons TD 5
Bike Race Pro
Angry Birds Seasons HD (Kindle Tablet Edition) (Pictured)
Sorcery! 3
Toca Kitchen (Kindle Tablet Edition)
Cooking Dash Deluxe
Grudgeball: Enter the Chaosphere
Angry Birds Seasons (Ad-Free)
Sago Mini Space Explorer
Time Mysteries 2: The Ancient Spectres
Empress of the Deep: The Darkest Secret
Rebuild
Star Traders 4X Empires Elite
Star Command
Mini Golf Mundo
SUPER WHY ABC Adventures: Alphabet
Peppy Pals Beach – Fun EQ for Kids
Royal Envoy (Premium)
Highrise Word Heroes+
Apps you can get for free:
Photo Studio PRO
Deep Sleep with Andrew Johnson
AVG AntiVirus PRO Android Security
Mirroring360 – AirPlay Receiver
Xtralogic Remote Desktop Client
PicShop – Photo Editor
Perfectly Clear
Smart Office 2
Daily Expense Manager PRO
Language Coach
Genius Scan+
Fleksy Keyboard
G-Stomper VA-Beast Synthesizer
ShutterFolio
My Weekly Budget – MyWB
True Booster | Speed Cleaner
an+
Fleksy Keyboard
G-Stomper VA-Beast Synthesizer
ShutterFolio
My Weekly Budget – MyWB
True Booster | Speed Cleaner
Source: Amazon