[Deal of the day] Amazon app and game deal happening now! Get over $30 worth of games now!
If you have a Kindle tablet or an Amazon Fire phone and you want to check out what you may be able to play on it after the holidays – or if you just want more free stuff that you would usually have to pay for – why not take a look at Amazon's app deals for today?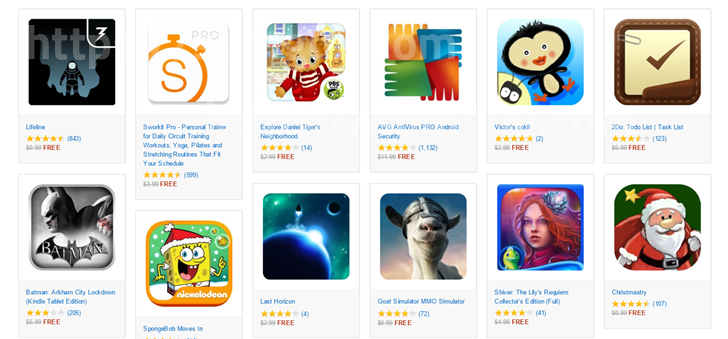 Some of the best games you can find on Amazon's apps and games section or on Google play store are available for free. Let's see what you can get for free below:
SworkIt Pro
2Do ToDo List
AVG AntiVirus PRO Android Security
Last Horizon
Batman: Arkham City Lockdown
Christmastry
Bridge Constructor Playground
Explore Daniel Tiger's Neighborhood
Goat Simulator MMO Simulator
Victor's Cold
Lifeline
SpongeBob Moves In
Shiver: The Lily's Requiem
Usually, these games and apps cost between $0.99 and $11.99,but today you can get them for free! All you have to do is go to the source link below, get all the apps you want and add them to your library and you will be able to download them whenever you want.
Source: Amazon