[CES 2015] LG G Flex 2 announced today – meet the smaller, faster and prettier curved smartphone
LG G Flex 2 made a first appearance at CES 2015 today and it appears that the curved phone trend is only starting. The phone looks similar to the parent device but its tech construction is much more different.
LG G Flex 2 is the first phone announced with a Snapdragon 810 processor – the octa-core chip constructed with four cores working on the speed processing while the other four will take care of the standby tasks and other low-overhead chores. This chip is using the ARM 64-bit reference design in order to fight Apple products, and the next generation of Qualcomm cores could be the real future. On paper and in tests, the new chip is a demon clocked at 2.0 GHz which – even if it doesn't seem much is a substantial increase when it comes to certain processing tasks – is much more powerful than similar existing hardware. The CPU also provides more speed with 300Mbps LTE.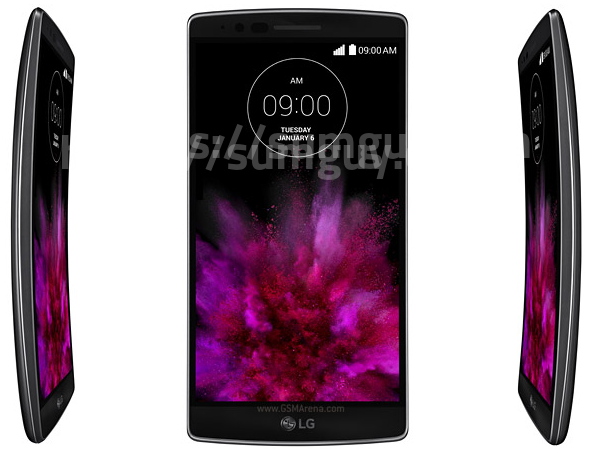 The curved LG version 2.0 is also sporting an Adreno 430 GPU that has no less than 288 shader cores and it supports native 4K encodes and decodes. The GPU is fabricated using a 20 nm process, which means it is more efficient than cheaper GPUs.
The G Flex 2 has a slightly smaller screen than its predecessor at 5.5". But it still lays somewhere on the phablet side of things. The screen resolution has been increased to full HD at 1080p and the display quality seems to be improved.
Considering it is a device with a curved display, LG G Flex 2 worked on its protection more, thus the new Corning Gorilla Glass 3 is improved in what concerns scratches and shock resistance, and LG says it is 20% better than the previous model and other Corning Gorilla 3 screens.
The self-healing factor is improved as well and scratches on the back seem to heal within 3 seconds of being scratched. Cutting the coating down through to the plastic elements will result in a permanent scar though, so be careful how you scratch your handset.
Flex 2 is helped by a 3000 mAh battery to hold things juiced up and a nice 13 MP camera with laser auto-focus, dual-flash and OIS+. The 16 GB version is getting 2 GB of RAM whereas the 32 GB version will be getting 3 GB of RAM.
Of course, LG's second flex attempt runs on Android 5.0.1 with a small layer of LG software on top. The device will present some mini-apps for Wear devices, which makes it the first Android OEM to insert Wear support into its own OSA.
LG did not announce when G Flex 2 will be officially launched and its price is a mystery as well at this point. We do know that it comes in silver and flamenco red and you will probably pay premium bucks for one.
Source: AndroidPolice
Photo source: GSMArena