Cerberus free licenses revoked: what other security app choices do we have?
You like Cerberus and its security perks mainly because you can get them for free if you're not up to paying for it? Well, think again, because it seems that the free license system for the app is going away, for good this time. It is a well-known fact that the guys behind this security app let people get free lifetime licenses every now and then, but it appears that "lifetime" is not what it used to be. These free versions will go out in a couple of days.

You want to keep your Cerberus software running? Give them €4.99 for a lifetime license. Users who reached out to the devs got a slap-back response saying that the free licensing was not feasible because of the costs involved. Below you can see the official response:
"We are sorry but we could not make those licenses last for a lifetime. We hope Cerberus helped you recover a lost or stolen device during these years, and that you will consider buying a license. "
Cerberus users will be able to get their license to work for three years after they started and they will be noted via email when their license is about to expire.
Before the Android Device Manager came into people's lives and saved Android devices, Cerberus was one of the few options to keep your device safe. Now, Google's response does pretty much everything regular users need. It's not that LSDroid are wrong in their decision, but they could have given every free-for-a-lifetime license user a heads-up before pulling the plug.
Cerberus security app alternatives
Prey
If regular security measures from Google are not enough for you and you are already disappointed in Cerberus, you can go ahead and try Prey, another security solution for your media handsets, including smartphones, laptops and tablets. This is actually an all-in-one security solution for handheld devices. It lets users track their devices and it sends reports about their devices in real time. This little piece of software helps users find their stolen devices and get them back too!
With Prey, you can log into your account from any web browser and you can remote-control your device, even when it is stolen. You can wipe your information, sound an alarm and lock the screen and send messages remotely.
Prey has a free version and two paid versions, of course, but the regular free version lets you find your device location, lets you get reports on its activity and location and it lets you sound an alarm, lock it and send messages from it wherever it is. It lets you connect to up to three different mobile devices that you can keep safe. The personal and home plan include support for up to 10 devices and additional features such as deleting passwords and other sensitive data and they even let you wipe your device remotely.
Avast Mobile Security
Another great alternative to Cerberus app is Avast Mobile Security. This anti-virus service also protects your device against theft in addition to protecting your device from infected files, malware, spyware, privacy phishing,or malicious viruses. You get most of the anti-virus and anti-theft features for free, but in order to get more devices locked to the same account you can agree to a $1.99 monthly plan or a yearly $14.99 fee.
The free Avast version gets you an Antivirus Engine, Privacy report &apps manager, Web shield, Network Meter and Firewall and App Locking. You also get the anti-theft features such as locating your phone remotely via GPS tracker, sending SMS messages remotely or locking your device, turning the siren on or wiping memory to keep your data safe. Additionally, you can also get a notification for a SIM card change.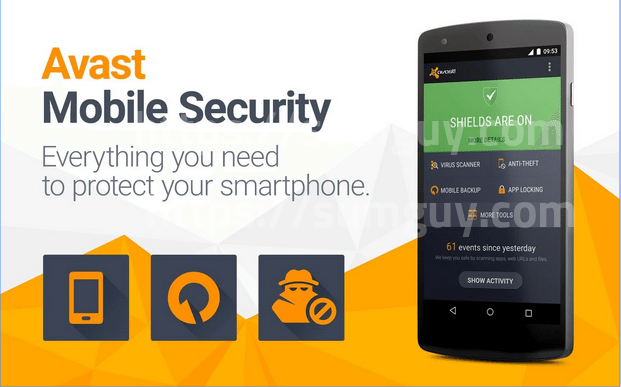 The paid Avast Mobile Security version gives you options such as unlimited app locking, ad detector, a password check that locks your device after three failed attempts to unlock. You also get Geo-Fencing, which is a feature that allows you to set a safe perimeter for your device and if it is taken out of that perimeter it will unleash a siren and send its location to your account (if the phone is taken away from the set perimeter, the actions you previously set will activate). Another paid feature is the remote SMS system, the remote data recovery and the remote identification where you can take a photo or video of the thief when he tries to unlock it.
Lookout
The third app that you can replace Cerberus with is Lookout. It has a personal version and a company version you can try, so you have many options to choose from there. The personal Lookout version has features like safe browsing, predictive security and a privacy advisor that lets you see which sites can access your personal data and it makes sure nothing gets leaked.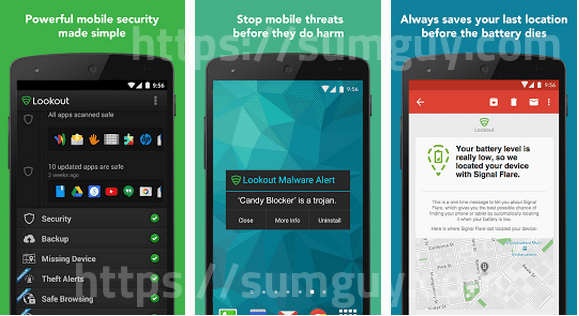 You also get the theft protection feature that assures your device with theft alerts, a signal flare (record the phone location when the battery gets low to help you find it when it goes out of power), locate and scream (mapping the location of your phone when it goes missing and starting an alarm, even on silent mode) and lock and wipe. The free version gets you predictive security, locating services, the scream and signal flare feature, contact backup and download and transfer data services. The paid version gets you additional features you can try for free for two weeks.
Lookout has a security app version directed at companies too and it has a mobile threat protection feature that keeps data safe predicting, detecting and remediating mobile threats before they can impact your company. It also enables secure BYOD programs with security solutions, detects compromised OS (rooted or jailbroken devices) and surveillanceware, trojans or data leakers.