BlackBerry to offer BBM Android Wear support in early 2015
BlackBerry just announced it's getting Android Wear support for BBM, and it goes live soonish in 2015. The messaging service is useful only when you have people who use it along with you and if you are intent on using BlackBerry Messaging anyway, even if most of your friends recommend you their WhatsApp and Hangouts nicknames, you could be relieved to find out that BBM is getting Android Wear support.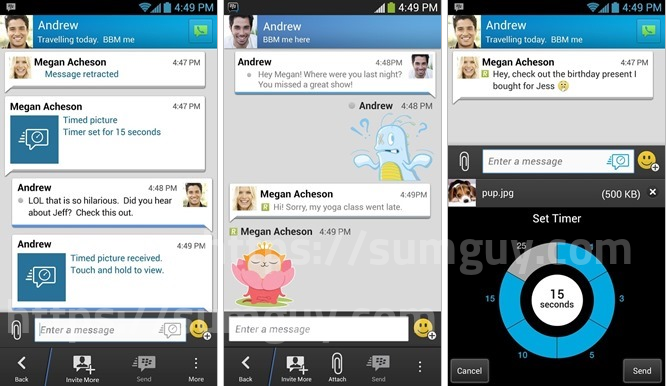 No one really knows when the update will be put in place, but we all know it will be soon. The CES 2015 press release from BlackBerry mentions the improvement coming sometime in early 2015. The Wear update will allow message notifications that can be dismissed or replied to via voice input or usual response. Users will be able to accept or deny BBM invitations directly from their Wear devices.
LAS VEGAS, NEVADA–(Marketwired – Jan. 7, 2015) – 2015 International CES – BlackBerry Limited (NASDAQ:BBRY)(TSX:BB), a global leader in mobile communications, today announced at the 2015 International CES that BBM™ will be available on wearable technologies for a wide range of Android Wear™ smartwatches to enable BBM users to communicate faster and more discreetly on-the-go.

According to research firm Canalys1, annual smartwatch shipments are estimated to grow to more than 28 million units by 2015 and more than 60 million by 2017. BBM's large and engaged user base spends more than nine hours a week within the BBM application. Through Android smartwatches, this active BBM community will be able to access their BBM messages directly on their smartwatch without the need to reach for their smartphone.

"BlackBerry is committed to listening to our customers and integrating new features and partners to improve the BBM Chat experience," said Herman Li, Senior Vice President, BBM Engineering and Product Management, BlackBerry. "The integration of BBM to support wearable technology is just one way we're expanding the capabilities of our portfolio and delivering exciting options for customers to easily access BlackBerry's cross-platform technologies."

BBM for Android Wear will enable BBM users to seamlessly:

Receive alerts on the watch when new BBM messages come in, see the sender and discreetly preview messages.
Read BBM messages in their entirety, navigate among messages and dismiss notifications with a simple swipe.
Respond to messages hands-free with Google Now or choose from pre-defined messages to quickly send a response.
Accept BBM invites from the watch without the need to access their smartphone.
BBM for Android Wear will be supported by a wide variety of watches that support Android Wear, available from a range of manufacturers. With BBM installed on an Android smartphone, BBM for Android Wear features will become available on the watch automatically. Visit g.co/WearCheck on your Android smartphone to see if your phone is compatible for Android Wear.

BBM support for Google Android Wear Platform will be available in early 2015.
Now all we possible buyers have to wonder is what would a brand new BlackBerry Android Wear device look like?
[googleplay url="https://play.google.com/store/apps/details?id=com.bbm"]
Source: Theglobeandmail