Black Friday Deals by Verizon : what discounts you can get from the Big Red
Black Friday is almost upon us and everyone is already getting their unbeatable deals out of the closets. Maybe you are not considering the big carrier stores as one of your destinations, but Verizon really wants you to look at their deals. If you feel that the prices are usually a bit above your financial possibilities, maybe you will find something attractive now.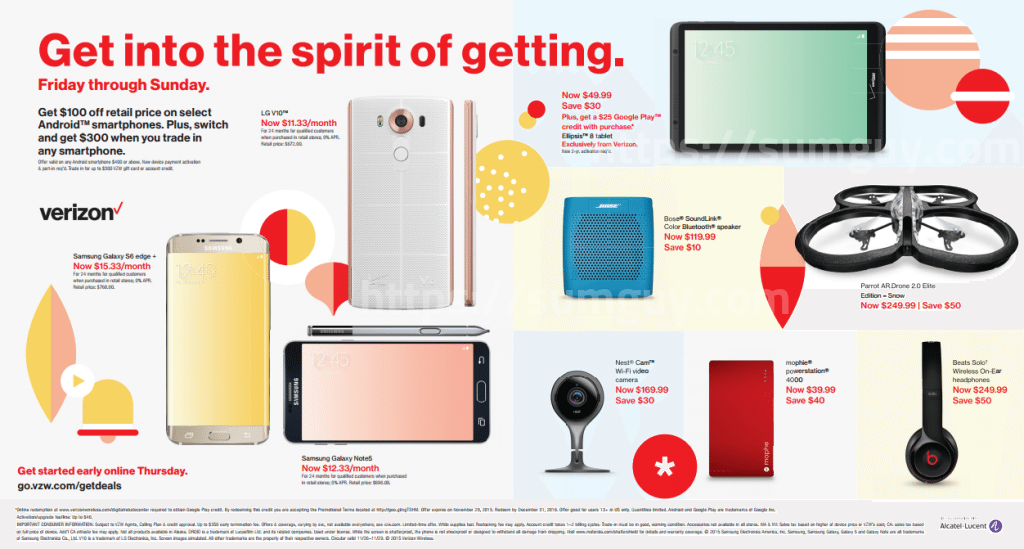 Verizon is offering a Black Friday discount – $200 value – on Samsung Galaxy S6, S6 Edge, or DROID Turbo 2 if you switch carriers and you release ownage of your existing device. You may also be eligible for a $300 gift card or credit Verizon if you trade in one of a number of used phones, which means you may be looking at a $500 discount.
If these discounts are not enough for you, Verizon is also cutting $100 off the retail price of some Verizon smartphones that usually sell at $400 and above. Some of them are LG V10, Galaxy S6 Edge+ and Galaxy Note 5.
If an LTE tablet is more to your liking, you may want to consider an Ellipsis 8 for only $50 (it usually costs $80). This deal is paired with a two-year contract, which may not be your cup of tea on the long run though.
Black Friday for Verizon is also packed with discounted accessories, including Parrot AR Drone 2.0 Elite (down to $250 – $50 discount) or a Nest Cam ($170).
Source: Verizon Black Friday