AT&T Samsung Galaxy S2 Skyrocket gets small update
AT&T has not forgotten its older devices and is releasing a sentimental OTA for the Samsung  Galaxy S2 Skyrocket today. It was AT&T's first LTE phone on sale three years ago and, during its prime, it had Samsung support all over Android updates. It began its journey with Gingerbread and got all over to Jelly Bean 4.1. It appears that all that ageless love is not gone since Samsung announced a software update for the device.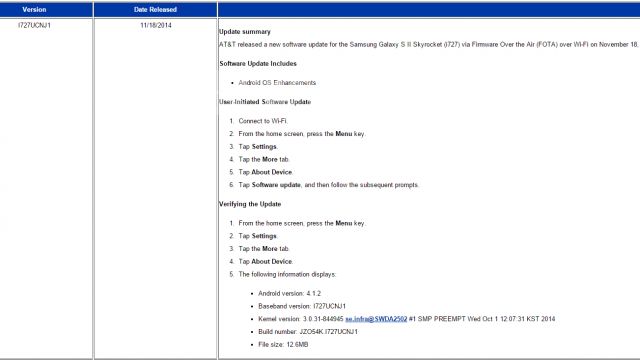 The changelog only presents Android OS enhancements, which is as vague as anyone can be. It could mean anything really. The update itself is pretty small at 12.6 MB and keeps the device at Android 4.1.2, build JZO54K. The new firmware version is I727UCNJ1.
Just in case you're still proud of your Samsung S2 Skyrocket from AT&T, head over to Samsung's official support page and get the little update.
Source: Samsung