Apple Watch – the first details regarding Apple's first smartwatch exposed!
Apple Watch has finally seen the light of day! After a few good years of rumors, the Apple Watch is officially upon us. Don't you dare call it the iWatch now! The wearable is supposed to work along with an iPhone and seems to be packed with sensors that monitor your overall well-being. It also runs the usual (customized) apps and notifications AND it lets you make purchases with the NFC tech involved (you will be able to instantly buy the McBurger you love so much too!).
The Apple wearable will be available in 1.5" and 1.65" versions with different colors and style options for them and, more importantly, their watchbands. Prices start at $349, but the device itself will not be touched by the usual customer until next year. The watch is advertised as working just great for everyone, no matter what you like or where you work. Apple also likes to put an emphasis on the multi-functionality of the device when it comes to hardware and software alike.
The iWatch models seem solid and light, and have a small curved sapphire Retina touchscreen that matches the small pebble-shaped body. The screen has sharp and powerful colors but the display is a bit reflective when it comes to rays of light.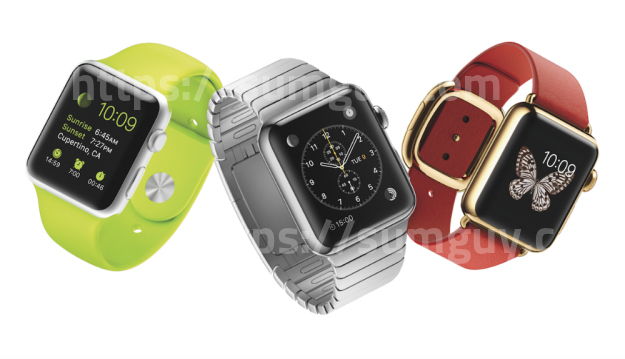 The devices have a custom S1 SiP (system in a package) chip with GPS, Wi Fi 802.11 b/g, and various sensors: a built-in heart rate monitor and an accelerometer included. They present Siri and Apple Pay support, MagSafe wireless charging and a Taptic Engine with built-in speaker combo for instant tactile feedback.
Apple Watch is compatible with iPhone 5, iPhone 5C, iPhone 5S, iPhone 6 and iPhone 6 Plus. It is available in three different versions: Apple Watch Edition (yellow gold or 18karat rose), Apple Watch Sport (silver anodized aluminum and space gray) or Apple Watch (space black stainless steel or polished version).
The Apple Watch is not a shabby device but it does not compare to Moto 360, which is a bolder statement and a better device altogether. The wearable is not groundbreaking on the niche market as there are better devices already out there, but it doesn't look too bad. It presents different styles and colors of wristband that can be purchased at your leisure and that satisfy any and every taste.
Apple plans to launch the device early 2015 and not many other details regarding the dubbed iWatch are known yet.
[wdsm_ad id="1484″ class=" " ]