AndroidPolice: Motorola begins Lollipop soak test on Moto X 2014 Pure Edition
Motorola is officially beginning its soak test on Moto X 2014 Pure Edition owners. AndroidPolice says that the test will be bringing Android Lollipop 5.0 to the handset, which makes the update reach the device even earlier than Google's official OTAs for its most recent devices, except for Nexus 9 and Nexus 6.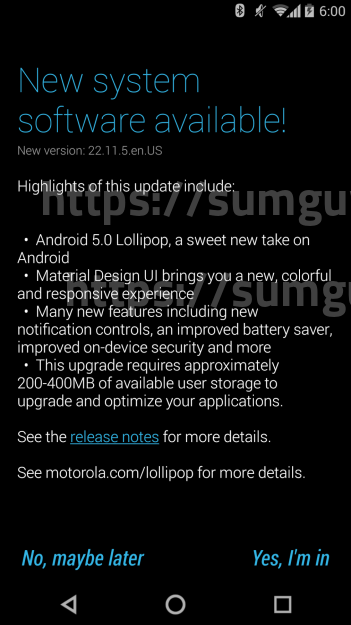 Lenovo's new acquisition of Motorola seems to take things move even faster and it appears users will be in store for some nice treats, including interruption control, lock screen notifications and screen pinning among others.
The rollout is just starting and there are not many details surrounding it, but Moto users should be happy that Motorola is fast in updating their devices, probably because of their work on Nexus 6, which brought about some important Lollipop knowledge.
Note: the release notes for the Lollipop soak test have been pulled from Motorola already.
Source: Androidpolice