Android Pay v1.1 update – small bug fixes (APK download)
Android Pay has been around for some time now, and it is high time for an update. Version 1.1 is the most recent update and it already started to rollout to supported devices out there. Most changes are little bug fixes, mostly text adjustments, and you will not see big changes anywhere. If you are used to the app though, you will find this update helpful because you will not have as many issues as in the past.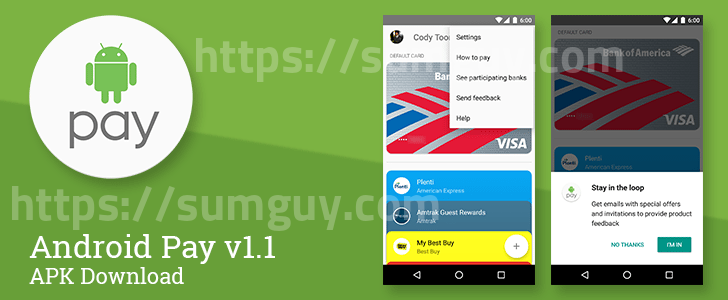 The most important change is a fix for the membership cards and loyalty cards that do not show up on a new device where you install the app. Android Pay needs users to add payment cards manually on each device they use for security purposes but non-payment cards are supposed to appear automatically on your account wherever you install the app. Version 1.1 fixes the issue and loyalty cards should appear on each device you use automatically, even in the case where you never add a credit card.
Among the visual changes you can spot on this Android Pay update you will find two new options in the menu: Participating Banks and Send Feedback. They are not special, but if you need them you can find them there now. The Send Feedback feature lets you send feedback to Google and the other feature opens up a browser page pointing to the android.com/pay site.
With this Android Pay update you can also get a prompt to Stay in the loop where you can sign up for promotional emails and surveys.
In order to download the update you can go to the official APK mirror below. It has a cryptographic signature that assures you that the file is safe to download and install. You can also wait for up to a few days for the update to reach all devices and installed apps out there.
Android Pay download details:
Version 1.1.106511521
file name: com.google.android.apps.walletnfcrel_1.1.106511521-930002686_minAPI19(armeabi-v7a)(480dpi).apk