Android L Preview fix – 14 closed bugs to be patched in the next public release
Android L Preview fixes 14 bugs that will be patched in the next public release. The biggest beta test in Android's history is taking its course on Nexus devices and developing to become the next big OS in the history of the most popular operating system in the world.
Android L is being worked on hard and fast in order to become reality sooner rather than later. The release date is approaching fast as sources say, because it will most probably be launched at the end of 2014. Some of the biggest and most important bugs of the OS are finally being patched, including Nexus's inability to send or receive MMS messages through Hangouts app. This bug happens only on AT&T and T Mobile devices at the moment.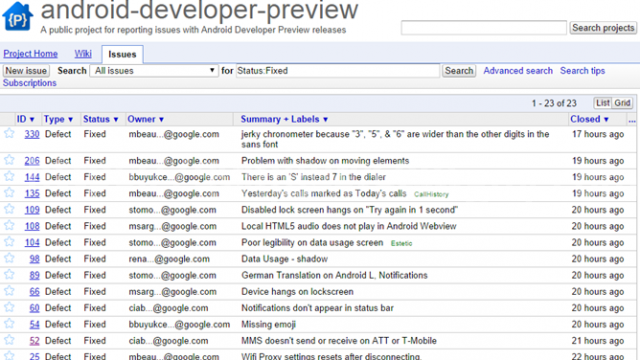 Apart from this bug, other 13 bugs have been fixed in the last day and they will be added in the release build. Among the fixes you will find:
Missing emoji

Dialpad no. 7 replaced with S

Lockscreen hangs

Lack of notifications

Wi Fi Proxy setting resets after disconnect

Local HTML 5 audio files don't play in Android Webview.
Hundreds of other bugs are still waiting to be fixed before Android L's launch.
The public release date of Android's newest OS is still a mystery, as well as its official (savory) name. Considering that Google is usually showing new developer phones around October and November, we are bound to find out more in the next couple of months. Stay tuned for more delicious news!
[wdsm_ad id="1484″ class=" " ]